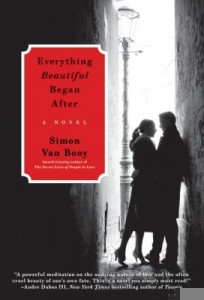 This week's feature is Simon Van Booy's Everything Beautiful Began After. Published earlier this month by Harper Perrenial, the book is Van Booy's first novel. He is also the author of two story collections, The Secret Lives of People in Love and Love Begins in Winter, which won the 2009 Frank O'Connor International Short Story Award. Additionally, he is the editor of three nonfiction philosophy titles: Why We Need Love, Why We Fight, and Why Our Decisions Don't Matter.
Born in London and raised in Wales, Van Booy now lives in New York City, where he teaches at the School of Visual Arts and is involved in the Rutgers Early College Humanities program. His work has been translated into thirteen languages.
Earlier this year, as Van Booy was working through the final stages of Everything Beautiful Began After, he conducted an email conversation with FWR Contributing Editor Joshua Bodwell about his work, philosophy, and the literary life. In his introduction to the interview, Bodwell describes the author's novel, writing:
In the elegant, seemingly Old World prose Van Booy has become revered for, the novel traces three lives set against the Mediterranean heat of Athens: those of the drunken but brilliant American George, the searching French artist Rebecca, and the British archaeologist Henry. New York Times best-selling author and National Book Award-finalist Andre Dubus has called the novel, "A powerful meditation on the undying nature of love and the often cruel beauty of one's own fate."
During their conversation, Bodwell and Van Booy touch on everything from morality in fiction to when it's appropriate to wear a pocket square. On the difference between the story and the novel as forms, Van Booy has this to say:
For me, a novel is like a city coming to life around you—but a world one can never really inhabit. A short story is a late-night conversation with a stranger in the park: very immediate, intimate, fleeting. Writing a novel is different. It's really all inspired revision. Did you know that the John Harrison clocks from the early 1700s required about eight hours to disassemble and about the same time to reassemble? Sixteen hours of non-stop labor all to make one tiny adjustment. Writing a novel is worse. It has to become an obsession—and where would we be without Harrison's clocks? "Lost at sea," I hear you murmur.
To read the rest of this wonderful interview with Simon Van Booy, please
click here
.
You can also win one of three signed copies of this book, which we'll be giving away next week to three of our Twitter followers. To be eligible for this giveaway (and all future ones), simply click over to Twitter and "follow" us (@fictionwriters).
To all of you who are already fans, thank you!