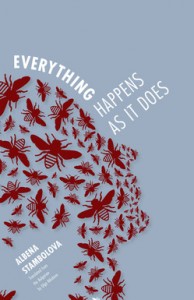 This week's feature is Albena Stambolova's new novel, Everything Happens As It Does, translated from the Bulgarian by Olga Nikolova. Stambolova's novel, which was published this month by Open Letter Books, was the 2013 winner of the Contemporary Bulgarian Fiction Contest from Open Letter Books at the University or Rochester, a project that is supported by the Elizabeth Kostova Foundation. She is also the author of two other novels: Hop-Hop the Stars, and An Adventure, to Pass the Time. She has also published a collection of short stories, Three Dots, and a psychoanalytical study on Marguerite Duras, Sickness in Death. She currently lives in Bulgaria, where she works as a psychological and organizational consultant, and is working on a book about fairy tales.
In the introduction to his recent review of this book, Associate Editor Steven Wingate writes:
[Stambolova's] short, fable-like novel Everything Happens As It Does brings a whole new sensibility to the body of English translations from her nation's contemporary literature. While the men show some concern for what being a Bulgarian means, what Bulgaria as a nation means (or, in the case of Milen Ruskov, what civilization itself means), Stambolova tells sinuous tales that snake through the lives of her characters, leaving the reader feeling privy to those deeply personal moments in which life make perfect emotional sense—even as it makes no cerebral sense at all.
We're happy to announce that we'll be giving away a copy of Everything Happens As It Does to three of our randomly selected Twitter followers. To be eligible for this giveaway (and all future ones), simply click over to Twitter and "follow" us (@fictionwriters).
To all of you who are already fans, thank you!