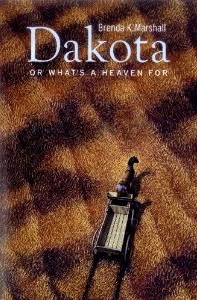 At the end of August, Fiction Writers Review launched a Fan Page on Facebook. The goal is threefold: to introduce new readers to FWR, to create an informal place for conversations about writing, and also to give away lots of free books.
Each week we'll give away several free copies of a featured novel or story collection as part of our Book-of-the-Week program. All you have to do to be eligible for our weekly drawing is to be a fan of our Facebook page. No catch, no gimmicks. And once you're a fan, you'll be automatically entered in each subsequent drawing.
Last week we featured The Swan Thieves, by Elizabeth Kostova, and we're pleased to announce the winners: Jeni Decker, Marianna Yarovskaya, and Jesus Angel Garcia. Congratulations! Each will receive a copy of the book, signed by the author.
This week we're featuring Dakota, Or What's a Heaven For, by Brenda K. Marshall. Marshall's new novel was published this week by the North Dakota Institute for Regional Studies. The book takes place during the settling of the Dakota territories in the 1880s, and the transformation of the characters mirrors, in part, the coming of age of the characters themselves. Charles Baxter writes of the novel, "From the smallest details–a cat asleep in a cold frying pan–to the largest ones of geo-political development, this novel is brilliantly inclusive in its understanding of how a region develops, and the breath of life flows all the way through it."
For more on Marshall's work, or to order a copy of the book, please visit the author's website. You can read also read an excerpt from the novel on the newly redesigned Michigan Quarterly Review website. Or read Keith Taylor's review of the book in The Ann Arbor Observer.
If you'd like to be eligible for this week's drawing (and all future ones), please visit our Facebook Page and "like" us. As we did last week, we'll be giving away three, signed copies of this title. To everyone who's already a fan, thanks for supporting this project. What we want to do is not only find ways to expand our readership, but also to put books we love in the hands of readers.
So please help us spread the word!