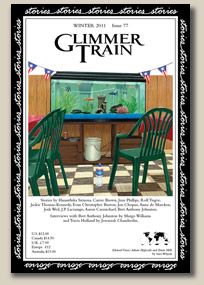 Each week we give away several free copies of a featured novel or story collection as part of our Book-of-the-Week program. Last week we featured Matt Bell's How They Were Found, and we're pleased to announce the winners: Joan Dempsey, Amy Hanridge, and Jarrid Deaton. Congratulations! Each will receive a copy of the book, signed by the author.
This week we're featuring the Winter 2011 Issue of Glimmer Train Stories. Editors (and sisters) Linda B. Swanson-Davies and Susan Burmeister-Brown have been editing the iconic literary journal for more than two decades. From its distinctive cover art to the longstanding tradition of publishing a childhood picture of the author alongside his or her story, few publications are more recognizable, to say nothing of esteemed. Stories from recent editions of Glimmer Train have appeared in the Pushcart Prize, the PEN/O. Henry Prize, New Stories from the South, New Stories from the Midwest, and Best American Short Stories anthologies.
If it sounds like we're gushing, perhaps we are a tiny bit biased. The current issue of Glimmer Train features an interview with FWR contributor Travis Holland, conducted by our Editor Jeremiah Chamberlin. In fact, an earlier version of their conversation appeared in these very digital pages. Glimmer Train has also published stories by Jeremiah Chamberlin and site designer Marissa Perry, as well as contributors Michael Byers, Lydia Fitzpatrick, Travis Holland, and Van Arsdale.
But one of the primary reasons we love Glimmer Train is because they're committed to publishing new authors. Nearly every issue features the first publication of an emerging writer. And three times a year they also conduct the Short-Story Award For New Writers.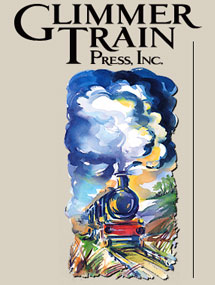 Speaking of contests, the submission deadline for the upcoming Fiction Open is December 31. As you may have noticed, we're featuring some free publicity for the journal about this upcoming contest. This is just a small "Thank You" for the support that Glimmer Train has given us and all emerging writers over the past twenty years. And not just the support of publication, either. Each year Glimmer Train pays more than $45,000 to writers for their work, a third of that going to emerging writers.
We hope that you'll help us support Glimmer Train by subscribing to this wonderful journal. And if you subscribe now, you'll receive a copy of this issue featuring our FWR authors in conversation, as well as work by such writers as Josh Weil, Aaron Carmichael, Bret Anthony Johnston, Jessi Phillips, and Anne de Marcken.
Thanks for your continued support of all we do at FWR. If you'd like to be eligible for this week's drawing (and all future ones), please visit our Facebook Page and "like" us. As we did last week, we'll be giving away three, signed copies of this title. To everyone who's already a fan, thanks again! What we want to do is not only find ways to expand our readership, but also to put books we love in the hands of readers.
So please help us spread the word!