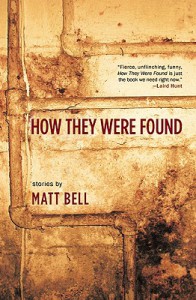 Each week we give away several free copies of a featured novel or story collection as part of our Book-of-the-Week program. Last week we featured Brad Watson's Aliens in the Prime of Their Lives, and we're pleased to announce the winners: Leanne Shear, Jenn Ryu, and Nancy Rawlinson. Congratulations! Each will receive a copy of the book, signed by the author.
This week we're featuring Matt Bell's How They Were Found (Keyhole Press, 2010). Bell's stories have been published in such places as Conjunctions, Hayden's Ferry Review, Willow Springs, Unsaid, and American Short Fiction. This collection also includes the story "Dredge," a Best American Mystery Stories selection, and the story "His Last Great Gift," a Best American Short Stories Distinguished Story of 2009 and a Special Mention in the 2010 Pushcart Prize Anthology.
Bell is also the author of three previous chapbooks: Wolf Parts (Keyhole Press), The Collectors (Caketrain Press), and How the Broken Lead the Blind (Willows Wept Press). The Collectors, which focuses on the Collyer brothers of hoarding fame, was a favorite of FWR in 2009, both for the unique way it approached familiar territory and the compassion of its vision. In his review of the novella, Editor Jeremiah Chamberlin writes:
The Collectors is as much a confession as an investigation, action and apologia braided together. For despite our greatest attempts at authenticity as fiction writers, we cannot help—in fact, we must—alter the histories and pasts we seek to animate, which is a kind of ruin. Even the most rigorous attempts to dignify and understand the lives of our subjects will eventually distort them, if for no other reason than they are a means to an end: the writing itself. And this side effect of the process is something that Bell's narrator, the unnamed writer, is keenly aware of. Near the end of the book he even says, "I want them to see you as I saw you when I first came to this place, before I started telling your story to my own ends."
If you'd like to be eligible for this week's drawing (and all future ones), please visit our Facebook Page and "like" us. As we did last week, we'll be giving away three, signed copies of this title. To everyone who's already a fan, thanks for supporting this project. What we want to do is not only find ways to expand our readership, but also to put books we love in the hands of readers.
So please help us spread the word!