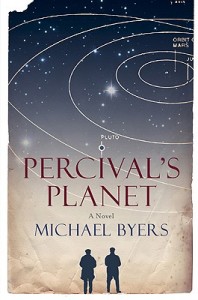 Two weeks ago, Fiction Writers Review launched a Fan Page on Facebook. The goal is threefold: to introduce new readers to FWR, to create an informal place for conversations about writing, and also to give away lots of free books.
Each week we'll give away several free copies of a featured novel or story collection as part of our Book-of-the-Week program. All you have to do to be eligible for our weekly drawing is to be a fan of our Facebook page. No catch, no gimmicks. And once you're a fan, you'll be automatically entered in each subsequent drawing.
Last week we featured Sharon Pomerantz's debut novel, Rich Boy, and we're pleased to announce the winners: Rene Vasquez Jr., Shanti Perez, and Taylor J. Partel. Congratulations! Each will receive a signed, first-edition of Sharon's book.
This week we're featuring Percival's Planet, by Michael Byers. The novel is based, in part, on the true story of the discovery of Pluto and takes place during the late 1920s. Told from multiple perspectives, including a farm boy in Kansas who grinds his own telescope lenses, a young woman losing her grip on reality, and a Harvard-educated scientist trying to work through Percival Lowell's mathematical equations to find Planet X, the novel explores the very human desire to understand the universe beyond our senses.
If you'd like to be eligible for this week's drawing (and all future ones), please visit our Facebook Page and "like" us. As we did last week, we'll be giving away three, signed copies of this title. To everyone who's already a fan, thanks for supporting this project. What we want to do is not only find ways to expand our readership, but also to put books we love in the hands of readers.
So please help us spread the word!