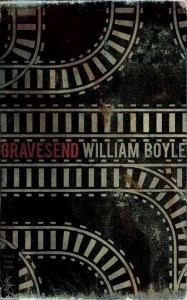 This week's feature is William Boyle's debut novel, Gravesend, which will be released next month by Broken River Books. Boyle's writing has appeared or is forthcoming in Mississippi Noir (Akashic Books), L.A. Review of Books, Salon, Needle: A Magazine of Noir, The Rumpus, Hobart, and other magazines and journals. He holds a B.A. and an M.A. from the State University of New York at New Paltz and an M.F.A. from the University of Mississippi, where he now teaches.
In the introduction to his recent interview with William Boyle, Alex Shakespeare describes Gravesend as a novel "firmly in the tradition of American noir." He goes on to write:
Like all the best crime writers, Boyle is both a masterful storyteller and a powerful stylist. He has an eye for the strange, ramshackle variety of Brooklyn: "The firing range was in a warehouse next to an abandoned textile company and right across from a Russian supper club. From the outside it looked like the kind of place where snuff movies got made." He has an ear for the local patois: "I'm gonna go what, deaf?"; "It's a disrespect." He has a nose for the pungent details that make up his novel's world: an old man's house that smells like dirty sponges, a young man who stinks of "ten different kinds of shitty cologne," a car that smells "vaguely of honey-roasted peanuts and piss." He has a sense of humor and a sense of place. Most of all, though, he has the true novelist's true feeling for his characters.
We're happy to announce that we'll be giving away a copy of Gravesend to three of our randomly selected Twitter followers. To be eligible for this giveaway (and all future ones), simply click over to Twitter and "follow" us (@fictionwriters).
To all of you who are already fans, thank you!