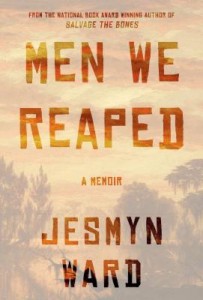 This week's feature is Jesmyn Ward's new memoir, Men We Reaped, which was published this week by Bloomsbury. Ward is also the author of the National Book Award winning novel Salvage the Bones (Bloomsbury, 2011) and the novel Where the Line Bleeds (Agate, 2008), which was an Essence Magazine Book Club selection, a Black Caucus of the ALA Honor Award recipient, and a finalist for both the VCU Cabell First Novelist Award and the Hurston/Wright Legacy Award.
Ward received her MFA from the University of Michigan in 2005, was a Stegner Fellow from 2008-2010, and served as the 2010-2011 John and Renée Grisham Visiting Writer in Residence at the University of Mississippi. She is currently an Assistant Professor of Creative Writing at the University of South Alabama.
If this all sounds vaguely familiar to you, dear reader, it should–we featured Ward's novel as one of our September 2011 Book-of-the-Week titles, just a few days after it was published. Then we featured it again the following April, after our 2012 AWP Book Signing with the author in Washington, DC.
In fact, we've been big fans of Ward's work since her debut novel appeared. Back then, during Ward's Stegner Fellowship, Nico Berry sat down with the author in San Francisco. Together the two conducted a wonderful interview for us entitled "Getting the South Right." We've been following her since.
In his recent New York Times review, Dwight Garner describes this new book, Men We Reaped, saying:
[Ward's] memoir is, ostensibly, about the lives of five young men she knew well, including her own brother, each of whom died young. One was a suicide; the others were lost to drugs or accidents. Ms. Ward could be speaking about all of them when she writes of one, "He wanted more for himself, but he didn't know how to get it." Yet, to its credit, this book isn't easy to define.
He goes on to write:
This at times somber book is also shot through with life, with a sense of rural community and what it felt like to be adolescent and footloose on hot Mississippi nights, all the beer cans and weed and loud music and easy sex and rolled-down car windows.
Then concludes:
Men We Reaped reaffirms Ms. Ward's substantial talent. It's an elegiac book that's rangy at the same time. She thinks back about her brother, and about her old dead friends, and about their nighttime adventures in cars. Then she declares, "I don't ride with anyone like that anymore."
Our big congratulations to Jesmyn Ward on her third book. We can't wait to read it!
We're also happy to announce that we'll be giving away a copy of Men We Reaped to three of our randomly selected Twitter followers. To be eligible for this giveaway (and all future ones), simply click over to Twitter and "follow" us (@fictionwriters).
To all of you who are already fans, thank you!
---