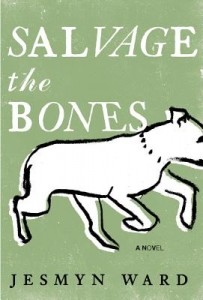 This week's feature is Salvage the Bones, by Jesmyn Ward. Published last month by Bloomsbury, the book is Ward's second novel. She is also the author of the highly acclaimed novel Where the Line Bleeds, which was an Essence Magazine Book Club selection, a Black Caucus of the ALA Honor Award recipient, and a finalist for both the VCU Cabell First Novelist Award and the Hurston/Wright Legacy Award.
A Stegner Fellow at Stanford from 2008 to 2010, Ward received her MFA from the University of Michigan, where she won Hopwood Awards for essays, drama, and fiction. She was the 2010-2011 John and Renée Grisham Visiting Writer in Residence at the University of Mississippi, and is currently an assistant professor of creative writing at the University of South Alabama.
Set in the fictional Gulf Coast town of Bois Sauvage, Mississippi, Salvage the Bones chronicles twelve harrowing days in the life of an impoverished rural family. As Hurricane Katrina roils shoreward across the Gulf of Mexico, the novel's fifteen-year-old narrator Esch struggles to hold herself and her three brothers together in the ramshackle house they share with their largely absent father. Ward herself lived through Katrina, which devastated DeLisle, Mississippi, the town where she grew up and returns to each summer. Informed by that real-life experience, Ward unflinchingly offers readers a window into a world that is by turns brutal and beautiful, and always compelling.
In its starred review of Salvage the Bones, Publishers Weekly hails the poetic, hardscrabble voice Ward has created in young Esch, writing that Esch "traces in the minutiae of every moment of every scene of her life the thin lines between passion and violence, love and hate, life and death," ultimately granting "it's cast of small lives of huge resonance." And those moments, in all their minutiae, quickly grow increasingly fraught with peril, as Hurricane Katrina slams into Bois Sauvage, and we watch as Esch and her family fight for their lives:
It is terrible. It is the flailing wind that lashes like an extension cord used as a beating belt. It is the rain, which stings like stones, which drives into our eyes and bids them shut. It is the water, swirling and gathering and spreading on all sides, brown with an undercurrent of red to it, the clay of the Pit like a cut that won't stop leaking. It is the remains of the yards, the refrigerators and lawn mowers and the RV and mattresses, floating like a fleet. It is trees and branches breaking, popping like Black Cat firecrackers in an endless crackle of explosions, over and over and again and again. It is us huddling together on the roof, me with the wire of the bucket handle lopped over my shoulder, shaking against the plastic. It is everywhere.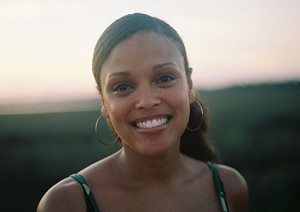 Win one of three signed copies of this book, which we'll be giving away next week to three of our Twitter followers.
To be eligible for this giveaway (and all future ones), simply click over to Twitter and "follow" us (@fictionwriters).
To all of you who are already fans, thank you!