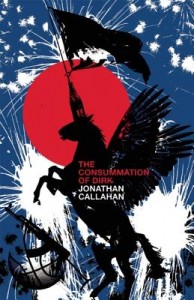 This week's feature is Jonathan Callahan's debut collection The Consummation of Dirk, which was selected by judge Zachary Mason as the winner of Starcherone Press's 8th Prize for Innovative Fiction and has just been released by Starcherone, an imprint of Dzanc. Callahan's fiction has appeared in The Collagist, Pank, Unsaid, Witness, The Lifted Brow, Quarterly West, Keyhole, >Kill Author, Used Furniture Review, Western Humanities Review, Underwater New York, Washington Square Review, and elsewhere. Essays on Kafka, Thomas Bernhard, Don DeLillo, Rick Moody, LeBron James, and David Foster Wallace can be found in The Collagist, Wag's Revue, and here at Fiction Writers Review. He grew up in Honolulu, spent a few years in Japan, and currently lives in New York.
In the introduction to his recent interview with Callahan, acclaimed fiction writer Rick Moody writes:
My requirement for literature is that it harbor some deep engagement with the verifiable complexities of human consciousness. Almost all books, in my estimation, fail at this engagement. Jonathan Callahan, who feels he is doomed sometimes, who can't keep his shit together exactly, spins out this deep engagement as though it were easy, or natural to him. That means: he has lots and lots of talent. Which is why I keep talking to him, and why we did this interview that I didn't really have time to do.
We're happy to announce that we'll be giving away a copy of The Consummation of Dirk to three of our Twitter followers. To be eligible for this giveaway (and all future ones), simply click over to Twitter and "follow" us (@fictionwriters).
To all of you who are already fans, thank you!
---
Further Links and Resources:
Read Part I of Moody's interview with Jonathan Callahan.
And here is Part II of Moody and Callahan's conversation.