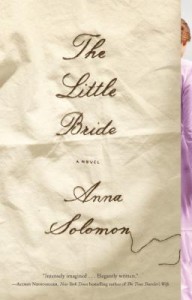 This week's feature is Anna Solomon's debut novel, The Little Bride, which was published in September by Riverhead. Solomon's short fiction has appeared in One Story, The Georgia Review, Harvard Review, The Missouri Review, and Shenandoah, among others. She is the recipient of two Pushcart Prizes and The Missouri Review Editor's Prize. Her essays have been published in The New York Times Magazine, Slate's "Double X," and Kveller. Before receiving her MFA from the Iowa Writers Workshop, she was a journalist for NPR's Living on Earth. For more about this novel, including the story behind its origins, please visit the author's website.
In her recent interview with Solomon, Contributor Sara Schaff speaks with the author about "truth" versus "accuracy" in fiction, why the short story is a more demanding form than the novel, and how she stumbled upon the story of a Russian mail-order bride, Rachel Bella Calof, whose story inspired this novel. In response to a question about developing her main character, Solomon replies :
This question is the hardest for me to answer because I was not that conscious of how it happened. I know what I don't do. It is organic in that I didn't go through and make decisions about [Minna's] character before I started writing her. She came to be who she was through the writing.

On a story level and on a plot level, I did know where the story was going. I really wanted to have a story-driven, plot-driven book when I launched into the longer form of the novel because I didn't want to be wondering the whole time what it was about. On a thematic level I'm still learning what it's about, but on a level of what's happening, I always knew: this is a story about a mail-order bride who goes to America. It was nice to have that basic piece there.

I didn't know exactly where it would end, and certainly lots of things changed, but I had a sense that this is this journey story, and these are some of the things that are going to happen. It's certainly not going to be just stuck in her head the whole time. Minna became who she is because of what the story needed her to be. The story also became shaped around who she was. Especially in revision, where I started realizing wait, no, this isn't really what would happen here. She really wants this, or she needs that. When I went back, she started driving the story more, whereas, in the beginning, she was becoming herself in relation to the story.
To read the rest of this interview, please click here.
You can also win one of three copies of this book, which we'll be giving away next week to three of our Twitter followers.
To be eligible for this giveaway (and all future ones), simply click over to Twitter and "follow" us (@fictionwriters).
To all of you who are already fans, thank you!