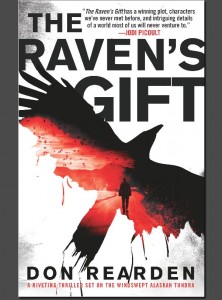 This week's feature is Don Rearden's debut novel The Raven's Gift, which was recently published by Penguin. Rearden grew up on the tundra of Southwestern Alaska, where his experiences with the Yup'ik Eskimo culture shaped both his writing and to a larger extent his worldview. He lives in the mountain community of Bear Valley, Alaska, and teaches as an Associate Professor at the University of Alaska Anchorage. Don also serves as the president of the board of directors for the 49 Alaska Writers and is faculty for the 2012 Kachemak Bay Writing Conference.
In the introduction to his recent interview with Reardon, JT Torres describes The Raven's Gift as "a novel that presents a world that is at once beautiful and deadly, with characters that are loving and dangerous." He continues:
These polarities are as stark as a reader would imagine life in Alaska to be when all the conveniences we know are stripped away. As a mysterious disease sweeps through the villages throughout the tundra, John Morgan struggles to find any semblance of civilization. As he does so, he finds himself in closer contact with a life from which he has hidden, a history he never thought he would learn. The novel has received national critical acclaim. Daniel Quinn called it "a work of mythical dimensions" and Ron Carlson extoled the "gritty and engaging Alaskan intrigue."
We're happy to announce that we'll be giving away a copy of The Raven's Gift to three of our randomly selected Twitter followers. To be eligible for this giveaway (and all future ones), simply click over to Twitter and "follow" us (@fictionwriters).
To all of you who are already fans, thank you!