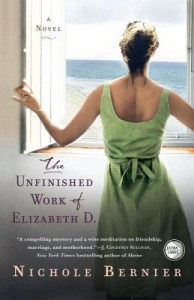 This week's feature is Nichole Bernier's debut novel, The Unfinished Work of Elizabeth D., which was a finalist for the New England Booksellers fiction award and a Target Emerging Author selection. She served as a Contributing Editor for Conde Nast Traveler for fourteen years, and was previously on staff as an editor, columnist, and television spokesperson. She received her master's degree from the Columbia University Graduate School of Journalism, where she received the school's award for literary journalism, and has written for publications including Psychology Today, Elle, Self, Health, Men's Journal, Salon, The Millions, and Post Road Literary Magazine. After she married and moved to Boston, she joined Boston Magazine as a senior editor. She is one of the founders of the literary blog Beyond the Margins, which features daily essays on the craft and business of publishing.
In the introduction to her recent interview with Bernier, Robin Black, author of the story collection If I Loved You, I Would Tell You This and the forthcoming novel Life Drawing, says this of The Unfinished Work of Elizabeth D.:
Nichole writes like she was born knowing how…There's a kind of crystal clear quality to her prose that I have gone back to study and tried to emulate more than once. And while on the surface hers is a book about women who became friends while raising their kids, it is more accurately about a subject dear to my heart: the secret lives that we all lead and the limits of our capacity to know one another as well as we might wish. I believe that we are always up against those limitations to intimacy and that the way we navigate those limitations define our human qualities.
We're also happy to announce that we'll be giving away a copy of The Unfinished Work of Elizabeth D. to three of our randomly selected Twitter followers. To be eligible for this giveaway (and all future ones), simply click over to Twitter and "follow" us (@fictionwriters).
To all of you who are already fans, thank you!