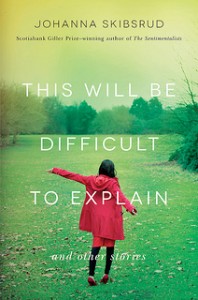 This week's feature is Johanna Skibsrud's debut story collection, This Will Be Difficult to Explain (W.W. Norton). She is also the author of a novel, The Sentimentalists (2011), and two collections of poetry: I Do Not Think That I Could Love a Human Being (2010) and Late Nights With Wild Cowboys (2008). She currently lives in Tucson, Arizona, where she is at work on another novel.
In his recent reviewlet of this collection, Ben Pfeiffer writes:
This Will Be Difficult to Explain is a slim, lime-colored book with a picture of a lackadaisical girl on the cover. It holds nine stories in just one hundred and sixty-nine pages, but although the book feels light in the hand, the stories pack a concentrated, emotional punch.
We're giving away a copy of This Will Be Difficult to Explain next week to three of our Twitter followers. To be eligible for this giveaway (and all future ones), simply click over to Twitter and "follow" us (@fictionwriters).
To all of you who are already fans, thank you!
---
Further Reading
Read the rest of Pfeiffer's review.
Read an interview with Johanna Skibsrud on Maison Neuve.