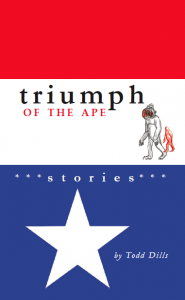 This week's feature is Todd Dills' new collection, Triumph of the Ape, which was published earlier this year. Dills is the editor of THE2NDHAND, which was founded in 2000 in Chicago. He's also the author of a novel, Sons of Rapture (Featherproof Books, 2006), and the editor of two anthologies of stories from THE2NDHAND. He lives in Nashville with his wife, Susannah Felts, also a published novelist and short story writer, and his daughter, Thalia.
In his recent FWR interview with Nick Ostdick, the two sit down for a discussion on place in fiction, using Kickstarter to fund a print-run of this new book, and much more. To begin the conversation, Ostdick asks Dills about Spencer Dew's forward to Ape, specifically Dew's comment that "Geography matters" in this collection. In response to how the "north vs. south dichotomy " might fuel some of his stories in the book, Dills replies:
I moved to Chicago from South Carolina in 1998, and I spent virtually the entire eight years I lived there with that whole North v. South dichotomy staring me in the face, more or less, though the Midwestern character of Chicago's surrounding environs (and the city itself) holds quite a few more similarities to white Southern culture than somewhere like NYC or Philadelphia. In essence, it was hard not to think about it—from small things like how people's voices sound to how someone approaches you in a bar (Chicago-style is all in your face; South is more wily, generally, the encounter beginning without you really realizing it's beginning, a description which probably could be applied in all sorts of ways to illustrate the North/South life-leading dichotomy, but I'll hold off for now). The stories in Triumph—or, Ape, if you prefer—with the exception of two, maybe three, pieces, all come out of that time.
To read the rest of this conversation, check out the full interview.
We're also happy to announce that we'll be giving away a copy of Triumph of the Ape to three of our randomly selected Twitter followers. To be eligible for this giveaway (and all future ones), simply click over to Twitter and "follow" us (@fictionwriters).
To all of you who are already fans, thank you!