Spring submission season is upon us. Here is a selection of postings that we've received in the last few weeks from journals seeking work. Please feel free to add others in our comment field, or write us: fictionwritersreview@gmail.com
Short Fiction Contest 2010
Submissions will be accepted February 1st-February 28th, with the winner announced in late spring. Submissions must be 1200 words or less. There is no entry fee. Louise Erdrich, winner of the 2009 Kenyon Review Award for Literary Achievement, will be the final judge. The Kenyon Review will publish the winning short story in the Winter 2011 issue, and the author will be awarded a scholarship to attend the 2010 Writers Workshop, June 19th-26th, in Gambier, Ohio.
Submission Guidelines
Writers must be 30 years of age or younger at the time of submission.
Stories must be no more than 1200 words in length.
One submission per entrant.
Please do not simultaneously submit your contest entry to another magazine or contest.
The submissions link will be active February 1st to February 28th. All work must be submitted through our electronic system. We cannot accept paper submissions.
Winners will be announced in the late spring. You will receive an e-mail notifying you of any decisions regarding your work.
Submissions will be accepted February 1-28, 2010
---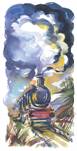 GLIMMER TRAIN SHORT STORY AWARD for NEW WRITERS
Deadline: February 28
Prizes:
1st place wins $1,200, publication in Glimmer Train Stories, and 10 copies.

2nd-place: $500 and possible publication.

3rd-place: $300 and possible publication.
Results post on April 30. Winning story will be published in Issue 79.
Other considerations:
Open only to writers whose fiction has not appeared in any print publication with a circulation over 5,000. (Entries, of course, must not have appeared in any print publication.)

Please, no longer than 12,000 words. Any shorter lengths are welcome.

Reading fee is $15 per story.
We look forward to reading your work!

Editors
Glimmer Train Stories, represented in recent editions of the Pushcart Prize,
O. Henry, New Stories from the South, New Stories from the Midwest, and Best American Short Stories anthologies.
Hello there!  We are currently receiving submissions for our upcoming print issue.
The Gopher Illustrated
emerges from the desire to consume hefty, satisfying cultural
content that is worth keeping. It is a publication in which content is associative,  obsessive, ludic, and endures in time. Instead of covering the current and the immediate – staples of the Internet era – we aim for stories, pieces and ideas that take
time, are globally local and ultimately timeless. We showcase visual arts and
thoughtful journalism without pretense…We welcome visual arts portfolios, articles and chronicles on culture or global topics and works of fiction. We are also receiving music and video submissions for publication on our website. A themed section for this issue centers on the "Stuff of Legends." We accept all the above-mentioned formats as entries for the themed section, and these should be sent with subject line "Legend." Send work to: submissions@gopherillustrated.co.uk. The subject line should  read "Submission – (The title of the piece)." In the body of your email, please write your name, contact information and a short paragraph about yourself and your piece.  If selected for publication, you will receive word by March 10th, 2010. The deadline for receipt is March 1st, 2010.
Folio,

a nationally recognized literary journal published out of Washington, D.C., is looking for well-crafted poetry and prose for its Spring 2010 issue. Past issues of

Folio

have included work by Michael Reid Busk, Billy Collins, William Stafford, and Bruce Weigl, and interviews with Michael Cunningham, Charles Baxter, Amy Bloom, Ann Beattie, and, most recently, Walter Kirn. Submit three to five poems or prose pieces up to 5,000 words. Submissions must be mailed with a brief bio and SASE by

March 5

. For more information, please visit

Folio

.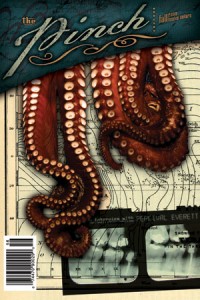 The deadline is fast approaching for The Pinch Literary Awards in Fiction and Poetry, sponsored by the MFA Program and the Hohenberg Foundation at The University of Memphis.  Fiction Prize $1,500, Poetry Prize $1,000, plus publication in The Pinch.  Entries must be postmarked by March 15th.  The $20 entry fee includes a one-year subscription.  For more information visit our website at www.thepinchjournal.com.  (
For more information on the MFA program at The University of Memphis, visit www.mfainmemphis.com.)