Dear Friends,
As always, FWR will be at this year's AWP Conference, and we'll hope to see many of you there. Swing by the book fair and find us at booth 829, which we're sharing with our pals from Midwestern Gothic. 
FWR is one of the annual sponsors of the Voices of the Middle West festival in Ann Arbor, which MG founded and co-hosts. This year's event, which took place on March 12, featured Ross Gay as the keynote speaker, as well as dozens of marvelous authors and editors from across the region. Check out some photos of the book fair, talks, and panels.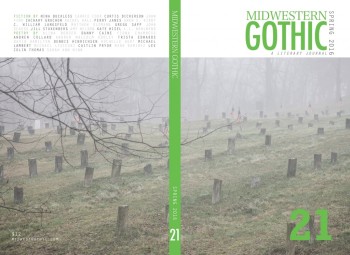 Also be sure to to check out the Spring 2016 issue of the journal, which drops Friday at AWP. Here's a sneak peek of the cover:
Earlier this week MG Press also released their newest title: Ghost Country, poems by John McCarthy.
And if you're still around on Saturday, Midwestern Gothic will be teaming up with museum of americana to host a free reading event at Wolf & Crane in downtown L. A. from 7 – 8:30pm. For more info, check out their Facebook event.
 We'll hope to see you.
– The Editors