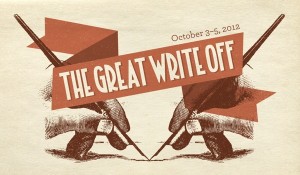 Well, friends, the numbers have been crunched and the checks are in and I'm happy to report that you helped us raise nearly $15,000 last week during The Great Write Off. We can't thank you enough for your generosity. Truly!
Thanks also to the Undergraduate English Association (UEA) and the Undergraduate Opportunity Program (UROP) here at the University of Michigan. These students helped orchestrate the write-a-thon at Espresso Royale for three days, and they were our ambassadors at The State of the Book last weekend–ushering, welcoming our guests, staffing the information table, and making sure that audience surveys were completed and collected.
Their final duty was to oversee the raffle on Monday night to determine our write-a-thon prize winners. Each of the 96 participants writing on behalf of Fiction Writers Review were assigned a participant number, and then those numbers were mixed together bingo-style in a jar. One by one, winners were selected at random by the U-M students.
Up first: Our book drawing! Each individual who raised more than $100 was eligible to win a copy of Natalie Bakopoulos's debut novel The Green Shore, generously donated by Simon & Schuster. Those winners are:
Brandon Bye
Forrest Anderson

Casey Tolfree
Phil Sandick
Leslie Clements
Shawn Mitchell
Sung Woo
Jennine Crucet
Alan Heathcock
Mike Scalise
Josie Keenan
Sharon Harrigan
Dan Rivas
Kate Strum
Dani Oliver
Nicole Lewis
Keith Taylor
Doug McCracken
Emily Alford
Steven Wingate
Congratulations!
Up Next: "Moon Drunk" sets. We're giving away ten sets of this custom, hand-set letterpress edition of "Moon Drunk" (a numbered edition set of poems in a paper slipcase designed and manufactured by Fritz Swanson: Charles Baxter's "Please Marry Me," signed by Charles Baxter, and "Transfigured Night," by Richard Dehmel [English Translation by Stefan Kiesbye]).
Our first five sets go to the top write-a-thon earners. And for the sake of fairness, all FWR editorial staff were taken out of the running. So, those winners are:
Robert Brunk ($1,000)
Steven Wingate ($725)
Travis Holland ($725)
Phil Sandick ($650)
Forrest Anderson ($420)
Congratulations! And a huge, heartfelt "Thank You!" from each of us on the staff.
Anyone who participated in the write-a-thon, regardless of earnings, was also eligible to win one of the five remaining copies of "Moon Drunk." We wanted everyone who wrote on our behalf to have a shot at one of these beautiful sets. (Note: book winners were also eligible and included in the pool.) Those five, randomly selected winners are:
J.T. Bushnell
Donielle Muransky
Jennifer Solheim
Tom Bennitt
Maya West
Congrats again! It meant the world to have writers across the country writing for us during last week's competition.
Finally: GWO t-shirts. Each FWR participant who raised more than $50 in donations will receive one of our Great Write Off t-shirts. Please write us at the following email to let us know your size, and also to confirm your shipping address: winners [at] fictionwritersreview [dot] com.
Winners of our book drawing and "Moon Drunk" sets, please write us at this same address. And include your t-shirt size, as well. Thanks!
We can't tell you how much we appreciate the hard work that each of you accomplished for our organization. Thanks for your belief, support, and encouragement. You have our gratitude.