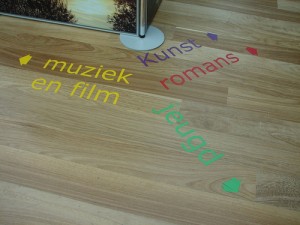 These photos of the DOK Library Concept Center (Holland) by Jenny Levine, "The Shifted Librarian" on flickr, are like porn if you love libraries, modern architecture, and books.
The mission of this library is, at least in part, to be a fun, inviting space–one where kids can stand on the furniture and eat while they read, and where books are integrated with music, games, and other media. Reading becomes socially awesome. And yet DOK also values reading's solitary nature by providing–as an alternative to the wide-open, light-soaked spaces–nooks and secret rooms where readers can lose themselves in a book. Surrounding the bookshelves with funky chairs and zebra carpets, a bold color palette, and creative signage makes the library an exciting place to explore, even for people who wouldn't normally visit one. The children's section features toys, interactive gaming consoles, and wheeled bookshelves that can move around to accommodate storytelling and educational programs. In the music section, bright orange "Pods" are available for listening to music, and the library's information system is run through Wii stations. Bonus: for a subscription fee, members can borrow works of art! Coming soon: recording spaces.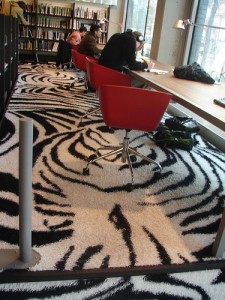 Thanks, Gwen, for the link!