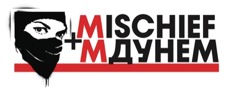 Ever wonder if 'power to the people' is just a pipe dream? A few years back, writers Lisa Dierbeck, Joshua Furst, DW Gibson, Dale Peck and Choire Sicha decided to put art to the test and formed a collective called Mischief + Mayhem. From their site:
The collective came together in response to the increasingly homogenized books that corporate publishers and chain retailers have determined will sell the most copies. We recognize that there are readers who want to be challenged instead of placated.

The collective intends to promulgate writing unconcerned with having to please conservative editorial boards or corporate bookstore executives. It will also help writers earn a living wage without compromising their radical aesthetics.
Mischief + Mayhem recently launched a blog, replete with manifestos and a soon-to-be-published web magazine called Wild Rag, which will include short fiction, essay, visual art and surprises. They also have a radical approach to getting books under their imprint out to readers. They've teamed up with OR Books:
"No book printed until it's sold" is the unofficial motto of OR Books, which will publish the Mischief + Mayhem list. A genuinely new type of publishing company, OR sells direct to the customer in print-on-demand formats and e-books.
The truly game-changing idea: the books will be available only through them.
Next Tuesday, 9/28, Mischief + Mayhem is hosting a night of literature, burlesque, cocktails and prizes at Room Service in Chelsea to celebrate their public debut. You are invited to join the revolution, and can find full details here on their site. Misfits welcome.