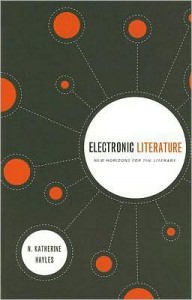 In the latest The Quarterly Conversation, William Patrick Wend's "Intro to E-Lit: How Electronic Literature Makes Printed Literature Richer" discusses N. Katherine Hayles' book Electronic Literature: New Horizons for the Literary and defends e-publishing.
Slate's Farhad Manjoo loves the Kindle but fears it's bad news for the current publishing industry.
Booksquare argues that the text-to-speech verdict, supposedly a win by Authors Guild (who aggressively pursued this issue), might (ironically) benefit Amazon the most in the end. Check out her earlier post on e-book pricing.
The latest Kindle news is at Kindlebuzz, and folks are talking about nothing else at KindleBoards.