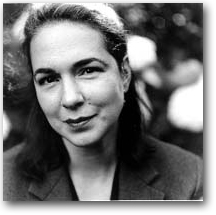 According to the Bookseller, Lorrie Moore's new novel — her first in over a decade — is coming out in 2009. Stephen Page at British publisher Faber gushes that A Gate at the Stairs "is a masterpiece for our times and only re-enforces her as one of the great writers of our age," and Vicky Wilson at Moore's US publisher, Knopf, calls the novel "a stunner." The UK edition is due to publish next autumn; I'm not sure about the US-release date.
What I am sure about is how excited I am to pick up A Gate at the Stairs.
In the meantime, we can read (or re-read) Moore's other wonderful books: story collections Self-Help, Like Life, and Birds of America and novels (pictured here) Who Will Run the Frog Hospital? and Anagrams.