For a while now, I've been concerned about raising a kid who loves to read. Evidently I am not the only one, as shown by the BabyLit series of board books featuring Romeo and Juliet, Pride and Prejudice, and Jane Eyre. These books bill themselves as "counting primers"—the "Little Miss Austen" version of Pride and Prejudice includes pages like "2 rich gentlemen" and "3 houses" (that would be Longbourne, Netherfield, and Pemberly)—but they're clearly intended to introduce at least the elements of these classics to young children. The forthcoming Little Miss Bronte: Jane Eyre features quotes from the novel, like "I have as much soul as you—and full as much heart."
I think these titles are really intended to appeal to the book-loving adult who will be reading this book five ten twenty times a day. But let's be honest: "2 rich gentlemen" is no substitute for Austen's actual story. Perhaps a better alternative would be picture books that develop a love of storytelling in kids AND entertain the reader-writer parents. For our youngest FWR readers and their grownups, here are 5 picture books that will delight writers and writerly offspring alike. No kids? Actually, these are cool enough (and funny enough) that you may want to pick them up for yourself.
1. The Monster at the End of This Book
This is a classic in its own right—and if you haven't seen it, please do yourself a favor and read it now (and then buy a copy, please). An alarmed Grover notices that the title page promises a monster at the end of the book and begs the reader not to turn any pages. Of course, the reader is pleased to disobey. But The Monster at the End of This Book is immensely satisfying for writers of all ages. As Bret Anthony Johnston points out in a Glimmer Train essay, writers can learn quite a lot from lovable furry ol' Grover: When your readers want something, do not give it to them.
2. We Are in a Book! by Mo Willems
An heir to The Monster at the End of This Book, We Are in a Book! follows Piggy (that's the pig) and Gerald (that's the elephant), who discover that they are–gasp!–IN A BOOK. They have fun making the reader say funny words, but what will happen to them when the book ends? Because, after all, as Piggy notes, "All books end."
Metafiction for the early reader? Yes please.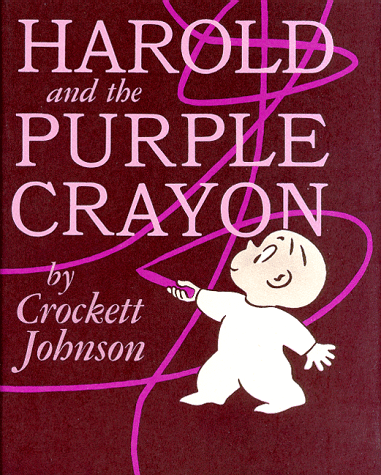 3. Harold and The Purple Crayon, by Crockett Johnson
Another classic (published in 1955), this title follows the eponymous Harold and his eponymous purple crayon on an adventure that subtly parallels the creative process. Everything Harold draws comes to life, and along the way his story frightens him, spirals out of control, and moves in unexpected directions before resolving itself in a very satisfying way. Sound familiar to you?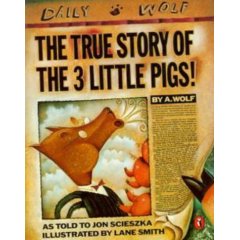 4. The True Story of the Three Little Pigs, by John Scieszka
In this parody of the Three Little Pigs, the wolf tells his version of the story—and surprise, surprise, it's quite different from the pigs' version. After accidentally bumping off one of the pigs, the wolf offers a deadpan explanation for eating him: "It seemed like a shame to leave a perfectly good ham dinner lying there in the straw. So I ate it up. Think of it as a cheeseburger just lying there." It's a study in the importance of viewpoint, with more than a dash of black humor, and writers will chuckle gleefully alongside their children.
5. Keep Our Secrets, by Jordan Crane
This picture book is published by McSweeney's, which tells you something right off the bat. Readers rub the color-changing ink on each page to revealing that nothing around them is as it seems: The cat has been taken over by mice! There's a dog in the piano! Writers truck in secrets, and this book teaches children the joy of delving into dark spaces to see what's hidden. To see it in action, check out this walkthrough by McSweeney's editor/art director Brian McMullen and his son Alton.
What are your favorite picture books for writers and their kids? Share in the comments!
---
Further Reading: