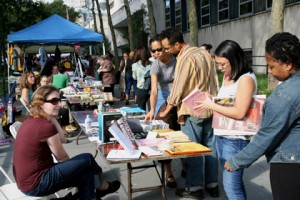 This Sunday, I'll sadly be driving away from Brooklyn, but if you're lucky enough to live in or near King's County, check out this year's Brooklyn Book Festival.
Where: Brooklyn Borough Hall and Plaza
When: Sunday, Sept. 13 from 10 AM – 6 PM
What: A book fair surrounded by a variety of wonderful events — readings, panels, interviews, tributes, literary quiz games, film screenings, a comics jam, and workshops in book-making and cartooning.
All events are free, but some require that you reserve space by picking up tickets one hour before the event at one of the info booths (on Plaza and at Montague and Clinton Streets. Limit 2 tickets per person per event.)
You can download the schedule here. The event descriptions below are just a few that made my monocle go foggy:
Next Texts: Four Debut Novelists. The Brooklyn Book Festival presents readings from four of the finest debut novels of 2009. Featuring Marie Mockett (Picking Bones from Ash), Shanthi Sekaran (The Prayer Room), Marc Fitten (Valeria's Last Stand) and Joanna Smith Rakoff (A Fortunate Age).
Editor as Author: Discipline and Freedom. A discussion on the relationship that editors play in the lives of authors in today's publishing world and the editor's role and sensibility vs. the authorial process. Featuring four authors who have also worked as editors: Heidi Julavits (The Uses of Enchantment), Hannah Tinti (The Good Thief), and Sarah Rainone (Love Will Tear Us Apart). Moderated by Donald Breckenridge (You are Here).
Rasskazy: New Fiction from a New Russia. Celebrate the literature of post-Soviet Russia with readings from Rasskazy, the Tin House anthology of new Russian fiction, featuring readings by Francine Prose (Goldengrove), Dale Peck (Sprout), Anya Ulinich (Petropolis) and Vadim Yarmolinets (Led Zeppelin 'Jericho 86-89'). Journalist Emily Gould will interview Rasskazy contributor Dmitry Danilov about Russia's continually flourishing literary world. Presented by Pen American Center.
Name that Author: A Literary Contest presented by the National Book Critics Circle. Features defending champ Brigid Hughes (A Public Space) and challengers David Haglund (PEN America), authors Steven G. Kellman (Redemption), Maureen N. McLane (Same Life), Geeta Sharma Jensen, Martha Southgate (Third Girl From the Left) and Craig Morgan Teicher (Publishers Weekly). Moderated by John Reed, The Brooklyn Rail. Judged by NBCC president Jane Ciabattari and Critical Mass blog chair Eric Banks.
Obsessive Fun. Rabbis who write, gamers, comics and karaoke-ists. Authors Rabbi Simcha Weinstein (Shtick Shift: Jewish Humor in the 21st Century), Ethan Gilsdorf (Fantasy Freaks and Gaming Geeks), Brian Raftery (Don't Stop Believin') and Eddie Sarfaty (Mental) let their obsessions entertain you.