An Unfinished Score
by Elise Blackwell
Unbridled Books, April 2010
256 pp
Concert violist Suzanne Sullivan is preparing dinner when she hears on the radio that her long-term lover Alex—a well-known conductor—has perished in a plane crash. Living with her husband (a composer), her best friend Pertra (a concert violinist) and Petra's deaf daughter Adele, Suzanne is forced to grieve in secret. With one foot in a dysfunctional marriage and one hand in the rearing of a child not her own, she comes to realize that it was during her stolen moments with Alex that she felt most whole. But as the story's three movements unfold, Suzanne learns that her affair was not as secret as she believed it to be. Enter Olivia, the dead conductor's widow, who weaves a scheme of revenge and blackmail that Suzanne must compose, arrange, and conduct her way out of.
Elise Blackwell's novels (Grub, The Unnatural History of Cypress Parish, Hunger) have always asked big questions, such as: how can a person navigate her life and her life's work when a wedge is driven between them? An Unfinished Score is perhaps Blackwell's most contemporary novel, as well as her most domestic. The balances of legacy against happiness, of friendship against competition, even of love against marriage, are struck at the household level in this original vision of a 21st century family unit.
Classical musicians—at work and at home—are the perfect subject for Blackwell's prose. That dismissive and unattributed cliché of "dancing about architecture" does not apply here. This novel is not so much about music as about life with music—its purpose, its redemptive power, and its limits. Art, family, and personal well-being all make conflicting claims upon Suzanne's life—a life that feels tragically incapable of holding all that it longs to contain.
An Unfinished Score is also Blackwell's most accessible and fast-paced novel thus far. Starting with the plane crash on page one, the surprises and reversals-of-fortune are relentless. The plot, an exploration of talent and relationships, is a page-turner — and taut as an E string.
Give this book to the grandparent who once played piano, or to the dreadlocked nephew who wants to start a band. It will strike a chord with both of them, one that will resonate for time to come.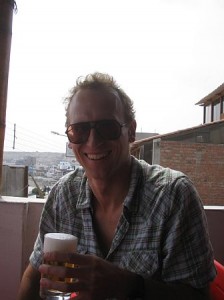 Tyler McMahon is author of the novel How the Mistakes Were Made, coming from St. Martin's Press in 2011. He lives in Honolulu and teaches at Hawaii Pacific University. More info at: http://www.tylermcmahon.net/