How often does it happen? Once or twice, maybe? You're in a bookstore, you're at the library, drifting among the stacks, your eye glazed over not with boredom but indecision, because you simply cannot decide what it is you want to read next. Reading something next, that's the easy part, particularly if you're one of those readers for whom the prospect of not reading something,
anything
, is just, well, unthinkable. You read one book or one story, and when you've finished that, you read another. It's like breathing in a way, one breath and then another, and another. But on this day, this particular afternoon in February, you've hit a wall. What next?
What next?
Outside the long wall of windows, down in the little park below the library where in warmer months parents bring their young children to picnic by the creek, the benches and tables are capped with snow. Something has fallen into one of the vents in the floor, and when the heat clicks on, whatever it is – a scrap of paper, a note – whatever it is trapped there rattles and taps, almost sleepily, lifted on a whisper of air.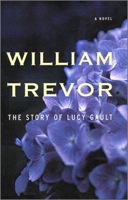 And then by pure chance your drifting eye falls upon flowers, a handful of blue hydrangeas crowded in a tiny box on the spine of a book jacket, on the lowest shelf, right down near the carpet. Any other day you might have missed them, these flowers, but not today, as luck would have it. The Story of Lucy Gault, the book is called, by William Trevor. A title as simple and lovely in its way as those hydrangeas, by an author whose work you've never read before. By the time you've finished that first opening paragraph you're hooked, and when you've finished this book – and it will break your heart, this book, it will – you'll move on to Felicia's Journey and Fools of Fortune and Love and Summer. You'll tell your friends, Read The Story of Lucy Gault, read Fool's of Fortune.
Years later–this year in fact–when William Trevor publishes his Selected Stories, you'll read that too, and marvel, as I have all this past month, picking through this gorgeous, truly masterful collection. You'll tell your friends: Oh, I've just read the most amazing story. "The Piano Tuner's Wives." "A Bit on the Side." "The Hill Bachelors." "Old Flame." One story and then another. Amazed, still, at your great good fortune.
And to think that it all began with those blue flowers.