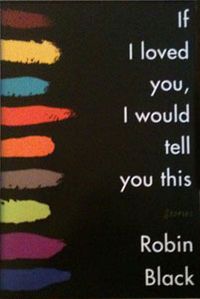 Before I recommend or send any book to one of FWR's reviewers, I always read a sample story or two, a chapter, or maybe the first fifteen pages. If I fall in love, I order a copy of the book for myself. But sometimes there's a novel or collection that demands to be read immediately. If I Loved You, I Would Tell You This (Random House, April 2010) made me forget I had a job, a website, friends, a boyfriend waiting for me to pick him up, dinner burning on the stove. And even after finishing this book (and sending it off to the reviewer), I couldn't resist buying two more copies–one to keep and one to share as part of Short Story Month 2010: The Giveaway Project.
If I Loved You, I Would Tell You This is Robin Black's debut story collection and a recent Andrew's Book Club pick. FWR will feature a review of the collection this summer. Jim Shepard describes Black's stories as:
…beautifully measured and composed in their engagements with emotional crises that are harrowingly intense, if not catastrophic. Few first collections – few collections of any sort — are as intelligent and as moving about both the durability of love and the implacability of loss, or about the ways in which contingency can undo and remake us; about, finally, the damage done and the repair work to come.
I couldn't agree more: this is one of the most exciting collections I've read in years. It's rare to find a writer so gifted with both style and story, but Black is at once an inspired plotter, a master of character (and empathy), and a deft prose stylist.
To win a free copy of the book, comment on this post!
In your comment, tell FWR about a story collection you love (or one you're looking forward to reading): on May 31, we'll do a drawing of commenter names, and one lucky winner will receive a copy of If I Loved You, I Would Tell You This. To be eligible, your comment must include the name and author of a story collection. Feel free, if time permits, to tell us more about the book. We look forward to hearing from you!
And stay tuned for more story collection giveaways from FWR's bloggers on May 17 and May 24.
If you write for another blog or lit site and would like to join the Short Story Month Giveaway Project, learn more here.
Via Scribd, here's a preview of our giveaway book.