On the topic of our "you've got to re-read this" series, I highly recommend this wonderful essay from Tim Kreider at Balitmore City Paper.
When Books Could Change Your Life: Why What We Pore Over At 12 May Be The Most Important Reading We Ever Do
Let's all admit it: We never got over those first loves. Listen to the difference in the voices of any groups of well-read, overeducated people discussing contemporary fiction, or the greatest books they've ever read, and the voices of those same people, only two drinks later, talking about the books they loved as kids…
What were the books that helped shape how you see the world — or that made you want to read and read and read and write, too? (And which of them, if any, seem horribly embarrassing now?)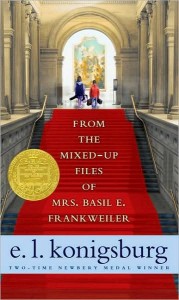 The books that really got me were A Wrinkle in Time, Anne of Green Gables, From the Mixed-Up Files of Mrs. Basil E. Frankweiler, Half Magic, The Secret Garden, The Egypt Game, Watership Down. As an adolescent, I worshipped at the lower-cased shrine of e.e. cummings; bunkered down with Margaret Atwood and A.S. Byatt; read and re-read Wuthering Heights; stayed up until dawn analyzing every lyric in Stephen Sondheim's Follies (or a Tori Amos album); then fled to the cynical-yet-loving arms of Lorrie Moore (who also – sigh – liked Musicals…I think she was my last great "first love" in this fashion).
And yet, to refute the article a bit, I have had a few reading experiences in my adult life that got me on that gut level: Michael Chabon's The Amazing Adventures of Kavalier and Clay, Susanna Clarke's Jonathan Strange and Mr. Norrell, and Philip Pullman's His Dark Materials series. They're only a few of my favorite books, and there are others I admire for different reasons entirely…but these are the ones that made me feel I was reading under the covers with a flashlight.
Books I adored once but fear re-reading out of fear they'll feel overwrought or overly precious now: The Secret History, Franny and Zooey.