Recently I was thinning out shelves of old paperbacks, and found myself with a thumb-worn Story magazine. I gave it a quick look, watching the blocks of justified print flutter by until the name Charles Baxter appeared above a story called "Scissors."
I didn't remember "Scissors," likely because it was the Spring 1990 issue of Story. But quickly enough this tale reminded me of what I love about Baxter: his ability to elegantly tell a story through the characters' own words and actions, through their vision and thoughts. Don't get me wrong: there's a voice and a wit directing your attention. But he's out to make these people—rather than his prose—a part of your experience.
In its essence, "Scissors" is the delicate rendering of a stunning moment when a mild fellow named Harold, who owns a barbershop, is forced to face up—at least momentarily—to a craven denial of the heart.
A visit by a woman and her son sets things off. Until then, it's a normally tame day for Harold: methodically reading the newspaper and keeping an eye out for the hot-air balloon that is supposed to float down Main St. to celebrate Tulip Days, which he's organized to help local businesses.
So: the visit. Rather than tell us that Harold and Louise have had an affair, Baxter has her enter the shop—little boy in tow—and stop, and stand up straight. Harold drops his newspaper to the floor, then recovers enough to say hello and comment that they haven't talked "in a coon's age." Louise responds that it's time for her three-year-old to have his first haircut, and that Harold is the only one to do it.
And there we are in the barbershop, ears pricked, certain that something's up.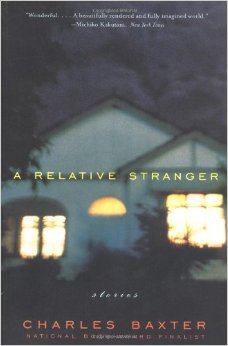 The next thing Baxter doesn't tell us is that the boy is Harold's son. Instead, he has Harold's knees tremble as he starts in. Then, when the scissors become unsteady, Harold pauses, and we see their three faces "reflected, in the usual way of barbershops, forty or fifty times, accordion-like, back into darkness between the two wall mirrors."
In context, imaginative, visual, perfect.
A little later things get a bit more overt: Louise off-handedly mentions that the boy's hair and eyes are just like Harold's. She throws this out while chattering with a bright and terrible cheer about her indifferent husband and how she lies awake at night, pondering "tricky" questions like whether the universe might actually be nothing more than a practical joke.
Harold, who until now has been trying to pretend that nothing unusual is happening, says: "What are you saying, Louise?"
And we hear Louise's fury so well. Harold is so handsome, she says, still in that awful breezy voice, it's no wonder she fell in love with him. But he's just so mild. He never did anything about them. He never took her anywhere. He never even drove her out of this town. He never spirited her away. She understands that he didn't because he couldn't, because it just wasn't in him, and that's what she means about the universe being a practical joke, that she fell for someone so—she doesn't quite say this—cowardly.
Harold is wounded, we know when he surreptitiously touches his fingers to his lips and presses them against the boy's cheek. And how when Louise tries to pay him, he says, quietly, "You can't give me money, Louise. You just can't."
No mercy is forthcoming from Louise, though. She tells Harold brightly that she'll be bringing Robbie back every month, from now on. Harold looks at the floor, and Louise kisses his cheek and leaves. This last bit has happened in front of Harold's friend Saul, who's come in for a trim. Saul is another nice, mild man, a stand-in for Harold's weak side, and he's going to help Harold recover from his wounds.
Baxter wraps things up by bringing the balloon along now, bright red tulip on its side, a romantic image until we realize it's littering Harold's peaceful little kingdom with useless coupons.
Saul has taken his shaken friend outside, and Harold looks at the balloon and says, "The things I think of doing!" But Saul absolves him, saying that it was a good idea that just didn't work out. After this dispensation, Harold suddenly remembers that he did take Louise out, once. She must have forgotten, but they went to dinner when her husband was away and held hands the whole time. And more: they never talked about the future at all, and things were perfectly fine that way.
Harold smiles, asks if Saul ever knew that woman. When Saul says no, he says, "I knew her once," restoring her so firmly to the past that we know it won't matter how many times she and Robbie return. Old enabling Saul says, "I know," and they head off for a hamburger, and the balloon disappears, and the story ends.
And I sigh with admiration and put the Story magazine back on the shelf.