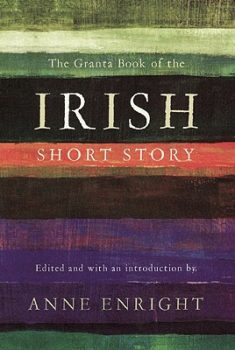 In her pithy introduction to the recent Granta Book of the Irish Short Story, Anne Enright waltzes around the question that all anthology editors seem obligated to address: what makes a short story a short story? And, in the case of this anthology, what makes the Irish short story exceptional?
Enright considers, rejects, and modifies many possibilities. She draws on that old master of the form, Frank O'Connor: the story is dictated by its needs alone; the story is always about human loneliness; the story thrives among "submerged population groups." She quotes Sean Ó Faoláin's demand that a story be untidy and carry personality, punch, and poetry. She cites John Kenny's suggestion that the story thrives most where cultures are in touch with oral storytelling. Then she trots out her own thoughts that The Short Story is driven by an anxiety about The Novel, and The Irish Short Story by an anxiety about The British Novel. After parading out all these possible answers to an impossible question, Enright abandons the quest and moves on to her own admittedly idiosyncratic reasons for choosing the stories.
What remains after all the debate is the undeniable fact that the Irish short story is masterful, moving, and expertly made, constantly drawing on a tradition that goes back to Joyce's Dubliners and beyond. The stories here are are able to be obtuse and lyric to a fault but still completely compelling, uncouthly direct and blunt but still beautifully rendered. They can all be read once to enjoy the quality of storytelling and language, twice to admire their shape and craft, and thrice to pick out the strands of early Irish folklore and mythology that surface again and again. Roddy Doyle delivers a potent horror story in "The Pram." Edna O'Brien and Colm Tóibín investigate the fallout when love and lust and nuns and priests intermingle. Frank O'Connor's "The Mad Lomasneys" delivers lingering blow after lingering blow. Men cheat on women and women cheat on men. The stories span the twentieth century and weave back and forth in time and all work together to deliver a solid sampling of the last century's Irish literature. This collection might not offer a definitive idea of what makes the Irish short story great, but it's a good place to fall in love with it.