Don't call Paul Vidich the Mayor of Storyville. He prefers Matchmaker.
That's because Storyville is less about Vidich, its creator, than his application's ambitious plan to "bring together writers and readers."
As you might imagine, Storyville is focused solely on the short story. Exclusive to owners of iPhones and iPads, the application promises to deliver one story every week, for which subscribers must pay $4.99 for a six-month subscription. In the end, this means Storyville's residents will end up paying less than a quarter per story.
Vidich promises they won't be just any stories. The Storyville editorial team is focused on stories from newly, or soon-to-be published collections, as well as on rescuing lost shorts from forgotten collections, securing stories that have fallen from the literary canon by negotiating 2nd-serial, electronic rights from every major publisher in hopes of republishing them for the Storyville audience. The publishers are, of course, delighted. With marketing budgets for collections already slim due to low sales, a decision that only compounds low sales further, many readers simply don't know where to find great stories in the marketplace.
The Storyville App sets out to solve this problem by selecting the best stories from collections and republishing them, once weekly, to an audience that will come to appreciate not having to "look" for stories they'll love. Vidich—not just town Matchmaker, but maybe also its Architect and Curator—has streamlined the experience for readers: rather than require individual per-story micro-transactions, users subscribe, sitting back comfortably as the stories flow in; and rather than overwhelm with hundreds and thousands of author and story options, one high-quality tale will download to their mobile device every week, automatically, pre-chosen across a broad spectrum of tastes and types to ensure readers are exposed to the best of the best across all genres and time periods.
No ratings. No reviews. No purchase decisions. Storyville represents its icon well. Its simplicity is reminiscent of an earlier time.


There may be no more qualified candidate to jailbreak the short-story than Vidich, who has performed similar feats in the music industry. Before joining the Board of Directors at Poets and Writers, Vidich spent nineteen years handling worldwide strategy and business development at Warner Music Group, a role that put him at the table with Steve Jobs to negotiate the terms of the iTunes Music Store. Vidich was the first executive in the music industry to trust Jobs with his company's cadre of artists—but not before helping design Apple's DRM program and actually suggesting the $.99-cent model, a price point the rest of the industry quickly adopted. Vidich, who has always been passionate about writing, received his MFA from Rutgers-Newark in 2009 and has pursued writing ever since. "Storyville brings together my passion for writing and literature and experiences in technology," Vidich told me over the phone. "I'll be happy if we just break-even."
It was not surprising, then, to hear Vidich describe short story collections in the musical terms of his past—"A collection is kind of like a music album. Twelve cuts, of which there are three or four great ones." He's built Storyville to not only expose those "great" stories but promote the larger collections that house them. Like the iTunes store, Storyville allows readers to purchase collections with a single click. It's all in service of talented short-story authors whose work might have otherwise gone unnoticed.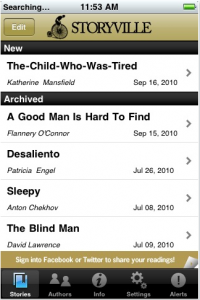 For Vidich, there's room to service those stories that do go noticed as well. Storyville plans to expand the experience of a story by including an author's notes on what inspired his or her tale—the story behind the story. Think of this as the "bonus track" or "album art"—an exclusive inside-look for Storyville community members. And releasing on Apple devices has allowed Vidich and his partners to focus further on optimizing their users' experience. Not only will an easy-to-use user interface categorize stories by author, title and chronological release, push notifications and badges will alert readers when new stories have downloaded. One-button sharing will make posting these reading lists to friends and followers on Facebook and Twitter simple and intuitive. "Book are present goods as you experience them, but they become a social good as you want to share the experience. Stories aren't shared, but comments on them are," said Vidich. "Stories are not technical. The tech is for distribution. The essence is in the imagination and human spirit."
Nothing may communicate this as well as the name of the application. While "Storyville" lends itself to the craft it champions, as well as the community it aspires to create, Vidich explained that it also refers to "Storyville," the original red light district of New Orleans, a neighborhood known as much for its edgy business practices as its dodgy, drifter characters. "It's a place where dreams, anxieties and love played out," Vidich explained. "To me it all represented a meaningful way to capture what stories are all about."
It appears Vidich, in looking for meaningful ways to represent his endeavor, never once looked in a mirror. As a story of reinvention himself—jumping industries from music to literature, singles to stories, businessman to author and back again, champion of the $.99-cent micro-transaction to the $4.99 subscription—he is a perfect representation for how Storyville hopes to reinvent how readers discover short stories and the authors who compose them.