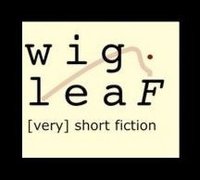 There's something to be said for simplicity. An afternoon spent at the park. Only what you can fit in your pocket. A bowl of fresh apricots straight from the tree (sorry, New York has me dreaming of summer already).
Every time I visit Wigleaf, their clean design aesthetic, wide margins and punchy, brief stories of under 1,000 words feel like a cool drink of water on a hot day (even when I am looking at several inches of snow outside the window). Wigleaf started in 2008, and we have Scott Garson to thank for the design and main editing on the site. Wigleaf accepts submissions this year during the months of September, November, January and March. They publish new work at least twice a week – so there's always some new candy up for your literary jonesing.
Their most recently posted story, "Plague of Grackles" by Jim Ruland, draws one of those sustained images that sticks with you through the day. In fact, a flock of birds I noticed settling on a rooftop cistern this morning made me think of being in rehab. Read the story, you'll see what I mean. That's one of the distinct pleasures of very short stories: they create such a fleeting scene or image that I often fill in the margins with further imagined bits and pieces of the characters' lives.
Enjoy your Thursday morning candy. And to our readers in the Southern Hemisphere, enjoy some summertime for me.