Editor's Note: Though we dedicate May to Short Story Month, celebrating the unique anniversary of a Black Sparrow Press poetry publication is a special case. Often and rightly revered for its avant-garde poetry publications, Black Sparrow has also long been the home of important short story collections and authors.
Charles Bukowski's collections South of No North, Hot Water Music, and the later, ruminative stories of Septuagenarian Stew are, of course, closely associated with the press, as is John Fante's The Wine of Youth. But Black Sparrow also published early Joyce Carol Oates collections, and was the first trade publisher of the recently rediscovered and re-celebrated Lucia Berlin.
The house's regular stable of short story writers has included Fielding Dawson, Thaisa Frank, and Paul Goodman, as well as Sherril Jaffe's humorous short-shorts in Scars Make Your Body More Interesting. Even poet and Kerouac biographer Tom Clark got into the short story mode for the press and released The Last Gas Station and Other Stories in 1980.
Finally, Black Sparrow has reintroduced the short stories of once nearly forgotten authors. After producing several stunning limited edition collections of darkly comic and often outlandish short stories by James Purdy, in 1991 Black Sparrow brought out the author's 350-page 63: Dream Palace: Selected Stories 1956-1987. In the 1970s, the press helped revive interest in the now-celebrated novelist and short story writer Paul Bowles. Their edition of Bowles's Collected Stories, 1939-1976 in 1979 included an introduction by Gore Vidal.
Today, we include in our celebration of Short Story Month a very special, non-short story related celebration: the fiftieth anniversary of Black Sparrow Press's first trade edition publication.
---
In May of 1967, then-office supply business executive John Martin's nascent Los Angels-based Black Sparrow Press released its first trade edition book: Ron Loewinsohn's poetry collection L'Autre. This month marks a half-century since that book's publication signaled a monumental shift in the intentions and ambitions of a press that would soon propel Charles Bukowski into an international literary celebrity, re-establish the reputations of writers such as Paul Bowles and John Fante, and concentrate on the avant-garde poetry of West Coast Beats, the San Francisco Renaissance, and the Black Mountain College.
A year before the release of L'Autre, Martin sold his collection of first edition D. H. Lawrence books for $50,000 in order to build the capital he needed to begin publishing. In the spring of 1966 he launched Black Sparrow Press with the simplest project possible: four un-illustrated broadsides, each in an edition of just thirty copies. All of the broadsides featured a poem by Bukowski—"True Story," "On Going Out to Get the Mail," "To Kiss the Worms Goodnight," and "The Girls"—the author Martin would steadfastly say made him want to found Black Sparrow.
Between the publication of those broadside in the spring of 1966 and the publication of L'Autre in spring of 1967, Black Sparrow released nine publications in total, all of them either broadsides or extremely limited edition chapbooks [1]—some even hand-sewn by Martin's wife, Barbara, who would eventually become the press's lead designer and establish the distinctive visual aesthetic that was Black Sparrow's calling card for decades.
During that first year, Martin realized the authors he was publishing—as well as the authors he hoped to publish—had the potential to reach a larger audience. He was determined to publish longer poetry collections in larger press runs. In order to realize his plans, Martin needed a printer who could both meet his high-expectations of quality and a printer he could afford. On a tip from Bob Hawley—a former Black Mountain College student who had moved to California, become a bookseller, and cofounded Oyez Press—Martin traveled from Los Angeles to San Francisco to meet with the printer Graham Mackintosh. The men hit it off and Martin left Mackintosh with the manuscript for Loewinsohn's L'Autre. This first collaboration between Martin and Mackintosh would mark the beginning of what would become a long and important relationship for the future of Black Sparrow Press.
Graham Mackintosh, often seen at the printing press with a cigarette dangling from his lips, perhaps something stronger than coffee in his coffee mug, was once called a "ruffian printer" by a fellow pressman. But by the late 1950s Mackintosh had built a reputation in the San Francisco and Oakland area as a naturally gifted typographic designer and printer. From 1962 to 1972, he helmed White Rabbit Press, the publisher of several books by poets such as Robert Duncan and Jack Spicer, as well as Richard Brautigan's second collection, The Galilee Hitch-hiker, in 1958. [2]
Mackintosh honed his craft working for Saul and Lillian Marks at the legendary Plantin Press, as well as during his several years in partnership with Noel Young of Capra Press. After designing and printing L'Autre, the Martin/Mackintosh partnership continued to deepen. By the early 1970s, the pair partnered on a print shop and Mackintosh would print Black Sparrow's bold, distinctive covers and title pages (as well as some interiors) until the two men retired in 2002. Mackintosh passed away in 2015 at the age of 80.
---
When Martin accepted the L'Autre manuscript Ron Loewinsohn was a leading voice in the San Francisco Renaissance. His 1959 debut collection, Watermelons, had been published by Amiri Baraka's Totem Press and boasted an introduction by Allen Ginsberg. Loewinsohn was close friends with Richard Brautigan and while the pair shared an apartment in 1963 they co-edited and published a single issue of the magazine Change. Brautigan would later dedicate Trout Fishing in America to his former roommate. By the time L'Autre was published in May 1967 [3], Loewinsohn had released a second slim chapbook to follow Watermelons and been included in Donald Allen's influential The New American Poetry 1945–1960 (Grove Press, 1960).
L'Autre—which takes its title from the Sartre line "L'enfer, c'est les autres"—was released in an unsigned trade edition of 500 copies; twenty-six copies of which were hand-bound in boards, lettered A through Z, and signed by Loewinsohn. The collection is slim—63-pages—and with its white semi-gloss cover and printing in just two colors (red and black), isn't as immediately recognizable as Black Sparrow books would soon become. L'Autre also has something else very rare for a Black Sparrow book: back-cover blurbs, in this case from Robert Creeley and William Carlos Williams.
On the front of cover of L'Autre is yet another rarity: the little black sparrow drawn by Barbara Martin, which sometimes appears on a book's title-page but is most commonly found at the back of the book, perched over the colophon. L'Autre was only the press's second publication to feature the publisher's device. More contemporary fans of Black Sparrow Press might notice how adorably round the little sparrow appeared back in 1967. The version of the sparrow on L'Autre was used from early 1967 until it was redrawn in late 1969 and used for the first time on Bukowski's If We Take, a slim, hand-sewn chapbook that was the year's annual New Years greeting publication gifted to friends of the press. In early 1972, the sparrow was redrawn a third and final time, and first used in the Bukowski collection Mockingbird Wish Me Luck.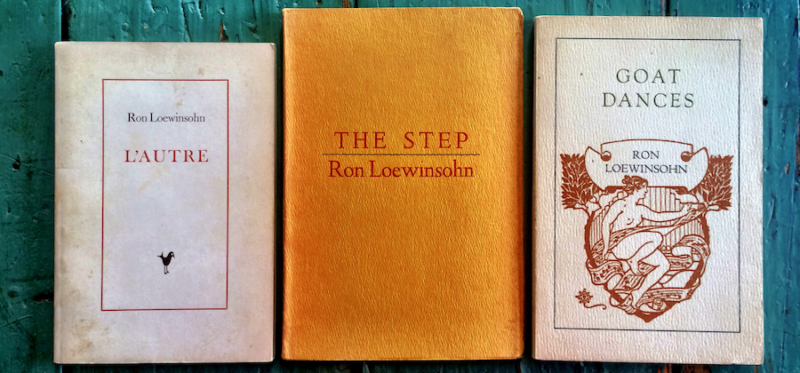 From the very beginning, it quickly became apparent Black Sparrow was interested in publishing authors, not just books. The press followed Loewinsohn L'Autre with The Step in 1968. That collection shows a major move toward the future visual aesthetic of the press, with a cover of textured, rich yellow paper with bright red type. Again designed and printed by Mackintosh in San Francisco, The Step was published in a run of 875—750 paper wrappers and 125 hand-bound in boards.
In 1972, Black Sparrow continued its support of Loewinsohn and published The Leaves in an edition of 1,226—1,000 in paper wrappers, 200 hardcover, and 26 hand-bound in boards, lettered and signed by the author. But at just 27-pages that slim collection was basically an elegantly produced chapbook. The poems in The Leaves became a part of Loewinsohn's full-length, 145-page collection Goat Dances. As Black Sparrow's trade editions grew into thicker volumes, Martin continued to increase his press runs with each subsequent Loewinsohn title. Goat Dances was released in 1976 in an edition of 1,725—1,500 in paper wrappers, 200 hardcover, and 26 hand-bound in boards, lettered and signed by the author. The collection bears all the hallmarks of what most readers came to associate with a Black Sparrow title: an elegant, letterpress-printed cover on textured off-white paper with heavy, earthy-green endpapers, a multicolor, letterpress-printed title page, and absolutely no text whatsoever on the back cover.
While Goat Dances marked Loewinsohn's final publication with Black Sparrow Press [4], he went on to publish two novels: Magnetic Field(s) (Knopf, 1983) and Where All the Ladders Start (Atlantic Monthly Press, 1987). He taught at UC Berkley from 1970 to 2004, and passed away in 2014.
---
After publishing Loewinsohn's L'Autre as its first trade edition book in May 1967, Black Sparrow began to make leaping, formative progress. In addition to publishing collections by Robert Creeley and Denise Levertov, they released their first trade edition books by authors who would become stalwarts of the press, such as Robert Kelly and Diane Wakoski. In April 1968, Black Sparrow published Bukowski's first full-length collection, At Terror Street and Agony Way.
In that short span of less than a year, Black Sparrow Press published twenty books and chapbooks total. Martin achieved this while still working full time as an office supply business executive from 7:30 a.m. to 6:00 p.m. at his day job and then, after dinner, going to work in his Black Sparrow Press office until as late as 2:00 a.m.; then he worked all day Saturday and Sunday on publishing endeavors. But the grueling schedule paid off: in the decade between those first four Bukowski broadsides in April 1966 and April 1976, Black Sparrow released 234 publications and established itself as a maverick publisher with exciting editorial tastes and high production standards that readers could trust. Martin would issue a "flyer" for each of those early books, a small broadside letterpress printed in multiple colors on beautiful paper that often included a full poem from the forthcoming collection it announced.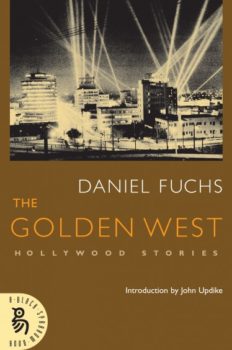 "That's how I did it," Martin said in 1981 as he described Black Sparrow's early direct-mailed flyers. "I did it by producing a product that was originally attractive and then following up with a book that, when [readers] got it, they weren't disappointed in." [5]
In 2002, after thirty-six years helming Black Sparrow, John Martin retired. He is eighty-seven years old today, and still lives in Santa Rosa, California, the third location from which he ran the press (following Los Angeles and Santa Barbara). Before retiring, Martin sold the publication rights to Black Sparrow's forty-nine books by Paul Bowles, Bukowski, and John Fante (as well as five then-unpublished volumes by Bukowski) to Ecco Books.
The rest of the Black Sparrow catalog lives on as Black Sparrow Books, an imprint of Boston-based publisher David R. Godine. The house reprints classic Black Sparrow authors such as Lucia Berlin and Eileen Myles, and has released new collections by Black Sparrow stalwarts such as Wanda Coleman and Robert Kelly. Several of Black Sparrow's new titles have reintroduced readers to underappreciated authors such as Daniel Fuchs, whose The Golden West includes an introduction by John Updike and The Brooklyn Novels an introduction by Jonathan Lethem. And the press continues to discover and promote new talent. In recent months, Black Sparrow has published Brooklyn-based Donald Breckenridge's fifth novel, And Then, as well as West Coast debut novelist Rachel Nagelberg's The Fifth Wall.
Half a century after Ron Loewinsohn's L'Autre, Black Sparrow continues the tradition of publishing challenging and thought-provoking work. And that, as John Martin himself once said, is what it's all about: "That's what really excites me about publishing—to be able to change the direction of thought or change opinion. Make something visible that was invisible before. That's where it's at."
---
 Five Footnotes
[1] Bernard Forrest's 1967 collection Not Meaning Not To See was a twelve-page, 4.5-inch by 3.5-inch chapbook released in an edition of just 75 copies. It marked the first appearance of the press's "sparrow" device. 
[2] A year after designing and printing Loewinsohn's L'Autre, Mackintosh produced Richard Brautigan's famous Please Plant This Book: a folder that contained eight seed packets, each with a poem printed on the front.
[3] Loewinsohn was a busy poet in 1967. In May, at the same time L'Autre was being published, Alan Brilliant and Jeffrey Sorenson's Unicorn Press released Loewinsohn's 8-page letterpress-printed chapbook 3 Backyard Dramas with Mamas in an edition of 400 copies on the occasion of the poet's reading at the Unicorn Book Shop in Santa Barbara. That same year, San Francisco's Cranium Press produced a large illustrated broadside of Loewinsohn's poem "Paean," his ode to urine in space.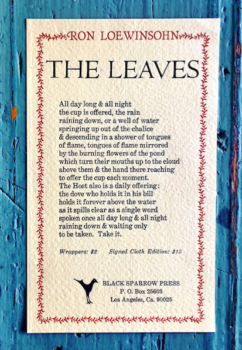 [4] In addition to Loewinsohn's numerous full-length collections, Black Sparrow also released several short but beautifully produced short chapbooks by the poet:
Lying Together; Turning the Head & Shifting the Weight, The Produce District, & Other Places, Moving – A Spring Poem | July 1967
5 pages, 125 signed copies hand-sewn in paper-wrappers.
The Sea, Around Us | August 68
8 pages, 250 signed copies hand-sewn in paper-wrappers, 50 signed copies bound in paper over boards with a cloth spine.
A Play and Two Poems | December 1968
21 pages, 226 copies hand-sewn in paper-wrappers, 100 signed copies with signatures of all three contributors, including Loewinsohn as well as Robert Kelly and Diane Wakoski; this chapbook was issued as a Christmas greeting by the publisher to friends of the press.
Eight Fairy Tales | Nov 1975
16 pages, 1,220 unsigned copies saddled-stapled.
This is issue #38 of Sparrow, a monthly journal featuring the work of a single author, published by Black Sparrow Press from October 1972 to September 1978 and producing 72 issues in total, beginning with The Pastorals by Robert Kelly and ending with We'll Take Them by Charles Bukowski.
[5] From Against the Grain: Interviews with Maverick American Publishers by Robert Dana (University of Iowa Press, 1986). This collection of eight interviews is mandatory reading for anyone interested in post-World War II independent publishing in America.