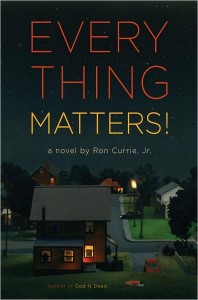 Spring is wet in Maine. The rivers swell and roadways succumb. Driveways turn to mud pits and basements flood. We take it all in stride, because living here is worth such minor irritations.
But this past spring, the rain seemed ceaseless. The normally bearable soggy months stretched into June and stole the beginning of summer from us. So, expecting Mainers to sit inside a bookstore on the first clear, balmy evening in early July seemed like too much to ask. Even the author Ron Currie, Jr., a Maine native himself, seemed hesitant to go inside Portland's Longfellow Books for a reading and signing of his new novel Everything Matters! (Viking, 2009).
A few minutes before the reading was scheduled to begin, the 34-year-old Currie was still slouched on a bench outside the bookshop. He smoked and eyed the podium inside; it was surrounded with stacks of his novel. In the city park adjacent to him, throngs of people congregated at the foot of a small stage for a free evening concert. Skaters and punks mulled about on the brick sidewalks. The 21+ crowd queued at the beer tent.
Currie watched and smoked.
With close-cropped hair and a t-shirt that revealed tattooed forearms, Currie looked more like a bartender than whatever preconceived notion might exist of how an "author" looks. But then, Currie has shown considerable talent for turning perceptions inside out—the opening line of his 2007 collection of linked stories, God is Dead (Viking), is a perfect example: "Disguised as a young Dinka woman, God came at dusk to a refugee camp in the North Darfur region of Sudan."
As the story unfolds, the refugee camp is attacked and God is killed, then eaten by a pack of wild dogs. Every subsequent story in the collection is set in a world where God is dead and everyone knows it. The remarkable book earned Currie the New York Public Library's Young Lions Fiction Award, as well as the Addison M. Metcalf Award from the American Academy of Arts.
Sitting outside Longfellow Books, Currie smoked. He watched as the first band of the evening took the stage. The screech of guitar filled the air as the drummer cracked his snare, and the music swelled. On the bench, Currie pinched a cigarette tweezers-like between his index finger and thumb, took a long last drag, then flicked the butt to the ground. A crowd of fifty had chosen to cram into the bookstore and listen to Currie rather than listen to live music in the fresh evening air—a telling example of what a powerful draw Currie's words possess.
"You guys are here at the beginning of what is going to be a long career," insisted Longfellow Books co-owner Chris Bowe as he introduced Currie. "This is like getting to hear early Vonnegut."
"Well, that was a bit hyperbolic, Chris, but I'll take it," said Currie as he launched into reading a chapter from Everything Matters! that is told in the second-person. Roughly a third of the new novel is written in an omniscient voice that is heard only by the main character, Junior Thibodeau. The voice tells the young Junior, among other things, that in 36 years and 168 days from the day he was born, a comet will destroy Earth. From there, Everything Matters! takes the reader on a rollicking ride toward Armageddon.
As the bookstore's door swung open and deposited several last minute listeners, the room filled with the crash of drums, the thump of bass, and the shrill wail of slightly off-key vocals. "Boy, these guys are really rocking out," said Currie as he paused for a sip of water. But the music never managed to overtake his reading—it was only the laughter of Currie's audience that occasionally drowned him out as he read about Junior and his older brother Rodney, a bully who we later learn is addicted to cocaine yet an exceptionally gifted baseball player.
Reviewers and readers have been drawn to these unexpected characterizations and the caustic humor in Currie's new novel. In her review for the New York Times Book Review, Janet Maslin called Currie a "startlingly talented writer" and noted that, "He survives the inevitable, apt comparisons to Kurt Vonnegut and writes in a tenderly mordant voice of his own."
After he read, Currie fielded a volley of questions from the eager audience.
"That's hard to quantify," he replied when asked how much of his work was autobiographical. Currie said he often begins with kernels of truth, but takes them so far from that starting point that they're unrecognizable when he's finished. He subscribes to Nabokov's quip that fictional characters are "galley slaves," not personalities shaping their own destinies.
While one-third of Everything Matters! is told in the second-person, the rest of the book is told in the first-person from several different points of view—a structure Currie has long admired in William Faulkner's As I Lay Dying. But with that said, Currie insists that he throws off many confines of structure. He did not outline his novel, for instance. "When I read writing like that [outlined], it feels lifeless," said Currie. "I'd rather my writing be messy but a lot more lively."
Asked how his writing process has evolved since he began, Currie said it has become "much less deliberate and much more intuitive. It can be about getting your conscious mind out of the way and letting your subconscious get to work."
"Reading broadly is probably the key to finding your own voice," Currie told the crowd. Describing his early efforts as "hyper realistic domestic dramas," Currie said he his own true writing voice arrived only after he'd devoured the work of writers such as David Foster Wallace, George Saunders, and Lorrie Moore. "I like [to read] so much," he said. "I get just as excited about [Raymond] Carver as I do about [Dave] Eggers, who couldn't be more different."
"Okay, you killed God in your first book. And you blew up the Earth in your second book," noted Bowe, who has been a staunch supporter of Currie's work for years. "So…what the hell are you going to do in book three?"
Currie said he has written 150 pages of a novel ripe with "horror genre trappings." He cited the ability of novelists such as Michael Chabon and Jonathan Lethem to write engaging, entertaining literary fiction that incorporates elements often associated with "genre" novels. When asked in a follow-up question if a writer should be conscious of entertaining readers, Currie answered: "I think you have an obligation."
A young woman asked Currie if he ever found himself writing even when he wasn't sitting at a desk and physically writing. "I'm writing right now," he deadpanned.
Outside the bookstore windows, a skateboarder crackled by on the brick sidewalk as the concert broke up. Groups of people wandered by. Some stopped and peered in at the audience gathered intently around this tough-looking but broadly smiling young man wedged behind a little podium on a book-covered table. Several people outside the window looked pleasantly confused.
"I am always writing in my head," continued Currie. Then he noted that the pitfall of constantly observing life rather than simply living it could make you "a great writer but a shitty human being."
Further Resources
– Via the NY Times, read an excerpt from the first chapter of Everything Matters!.
– Here are some interviews with Ron Currie, Jr. on Bookslut, Three Guys, One Book, and Meeting House.
– Read Janet Maslin's review of Everything Matters! here.
– At Largehearted Boy, here is Currie's music playlist for Everything Matters!.
– If you're looking to add Currie's novel to your collection, shop at your local independent bookseller.