In Scott Hutchins's debut novel, A Working Theory of Love (Penguin), recently divorced 36-year-old Neill Bassett muddles through bachelor life and a job at a Bay Area artificial intelligence company, where he's working to create the world's first sentient computer. But when the computer becomes the reincarnation of his deceased father, everything Neill thought he knew about love, language, and family is put to the test in this funny, moving, and deeply ambitious novel. In August, I talked with Hutchins about his literary influences, the process of creating a character from a computer, and his own complicated relationship with technology.
Scott Hutchins is a former Truman Capote fellow in the Wallace Stegner Program at Stanford University. He received his M.F.A. from the University of Michigan, and his work has appeared in StoryQuarterly, Five Chapters, The Owls, The Rumpus, the New York Times, San Francisco Magazine, and Esquire, and was recently set to music. He is the recipient of two Hopwood Awards and the Andrea Beauchamp Prize in Short Fiction. In 2006 and 2010, he was an artist-in-residence at the Cité Internationale des Arts in Paris. He lives in San Francisco with his wife and teaches creative writing at Stanford.
---
Interview
Molly Antopol: In A Working Theory of Love, Neill Bassett sets out to create the world's first sentient computer, which in turn houses the reincarnation of his dead father. How did you come up with this off-the-wall idea?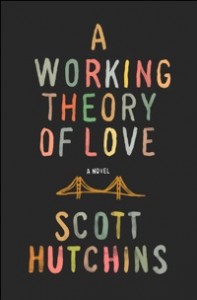 Scott Hutchins: Believe it or not, the computer was originally a different character. A much more minor character. It was only when I was outlining the novel with a friend on a bunch of whiteboards, and he said, "Of course, the computer is Neill's father." I said, "Of course!" It wasn't, but it was obvious that it needed to be.
As for creating a character from a computer, I sort of made my way there by dabbling in books on consciousness. Alan Turing in the really sly essay that invented this test said that his competition should include all types of machines, "except men born in the usual manner." That got me thinking.
The book seems like such an apt metaphor for today's reality, in which people relate to each other through machines. Was this metaphor deliberate, or did it simply emerge organically from the story?
Mostly deliberate. I was myself interacting via machines much more—email, Facebook, the occasional internet date. And that's the real human contact! There are also the endless hours of observing—finding and observing—that feels pretty similar. Part of being human is extending ourselves beyond our physical limitations: we can fly, we can talk through space, we can become four-wheeled vehicles. And the internet and internet personas are a new frontier for extending ourselves. We can now interact socially from—as Eddie Murphy would say—the privacy of our own bedroom.
But more than that, I was puzzling over this new world where nothing ever goes away. I wondered, what can be lost? What can be reclaimed?
Your novel seems equally weighted toward the rational and emotional. How did you strike that balance—and what came first as you wrote?
Thanks! I'm a huge admirer of the Brazilian writer Machado de Assis, who started using a very explicit, wry philosophical style late in life. I love it and I definitely wanted to work in that mode, but I wondered, can I do this? It helps that he wasn't a systematizer, which I'm not either. He just used the full force of his talent and intelligence to surprise—in the moment, the language, the observation. Also, he's very funny and sad.
Certainly, my ultimate goal is always to land the emotional punches. Which suddenly sounds a very aggressive metaphor. What I mean is that I want to really involve the reader, to make the story a story one cares about. And really the process of writing a more idea-driven book is not all that different from a non-idea-driven book. In either case you're moving from a notion—an abstraction—to its specific incarnation. You know, as a writer and a teacher, that this is the hard work. It's just that in an idea-driven book you end up doing a lot more research.
San Francisco is a difficult city to write—no one wants to read another description of the fog or the hills. But you captured the city in a fresh and original way, and wrote about this particular time in the city with authority and authenticity. How did you get that right?
I wouldn't say it was a struggle, but it was a concerted effort. I was living here (am living here) and observing San Francisco at this particular point in time, going to strange events, listening to the hilarious talk. It's such an exciting city to be a writer in, because everyone is on such an upfront, thoroughly-discussed quest. This isn't a Mrs. Bridge quiet-desperation kind of place: our desperation (and hope and anger and silliness) is discussed in clear tones, over brunch.
I loved the documentary process of trying to capture this place at this time. I took a lot of pictures and a lot of notes. I also spent a lot of time on Google Streetview. I felt this was something I could really bring to the book, something fresh.
But it's funny how it can all leave the head. Recently, an interviewer told me that I had not only exactly described the street her grandmother lived on, but the particular details of a bakery on that street. I was very happy to hear that—though I didn't actually remember that part of the book!
The Turing Test is a perfect plot device. Please describe the theory and how it made it to your attention and into the book.
Short version: How can we determine if a computer is "intelligent"? What would be a scientifically measurable benchmark? Turing proposes that if a computer, pitted against a human, could fool interlocutors (his word) thirty percent of the time into thinking it was the human, then we would have to say that the computer was intelligent.
So intelligence is speech—specifically, speech as deception. Turing actually stole this "test" from a parlor game called the Imitation Game. In it, a man and a woman went into separate rooms and passed notes to the party, each trying to convince the crowd that he or she was really the woman. So it was also a sanctioned bit of gender bending.
Obviously the test is a theoretical proposal, but when I first started looking into the idea, I found out that there was an actual Turing Test, hosted—in great disrepute—by the owner of a New Jersey brassworks. I went to judge it one year, and the whole human comedy of the affair hooked me.
What's love got to do with it?
The romantic story lines in the book are the counterpoint to the father/computer story. So there's old-fashioned structure. But the book is ultimately about love—not just romantic love (though that's a huge part) but also filial love, and filial love for one's parents' romantic love, and self-love, and love that survives beyond death.
On a more abstract point—of all the ways we've extended ourselves through technology, computers are the most personal. They're the most related to our relationships—our love.
Science fiction has dealt with some of these issues (consciousness-computer divide/the afterlife/robotics that become more human than humans) for nearly a century—Asimov and Bradbury come to mind (longer if you count works like Frankenstein). What does literary fiction have to add to the conversation? What differentiates your novel from sci fi?
Why not go back to Pygmalion!? The concern of art—in the sense of human creation—and its "reality" has been with us for a long time, and now that we're transferring more and more of our lives online and feeling more cyborg-ish by the year, I think this is a concern that is absolutely mainstream. We're mostly creating ourselves, of course, not others, and that would be a difference.
What does literary fiction have to add? I'm not sure! I guess I would say literary fiction—if we're taking that term to mean more character-based fiction—has the capacity to bring these philosophical concerns in closer and clearer relation to our lives.
Do you have a school of ontology you feel sympathy with?
I feel sympathy for all of them—and even more sympathy for myself in the face of this very high-level question! Well…I was raised Roman Catholic, so I have a weakness for orderly views of life. But in the great unknowableness of the everyday, I probably rely on existential ideas mostly. I'm especially fond of existential psychology. Also, unlike Neill (my narrator), I'm totally open to yoga and meditation and those views, which are ontology, cosmology, and even theories of medicine. Mostly though they're ego-annihilating, which is why Nietzsche disapproved of them. Did I mention that I love Nietzsche, too?
What implications do you foresee for our predilection for connecting with machines as an extension of the self?
I can't say that I'm overly worried—not because there aren't reasons to be concerned, but because there's nothing to be done about it. Once a technology is introduced, the changes are irrevocable and unexpected. I think it's important to remember, too, that every generation deals with what it sees as a disruptive technology. In the early 1800s, Americans feared the great improvement in roads and horse and buggies. They thought the ease of travel would tear apart families. I don't want to rail against the horse and buggy!
I think social networking is a very good way to keep up with groups of friends—now I can see what they're doing at Legoland! —and I love being able to text my dad and brothers pictures of what I'm seeing. It's a way to share your life that was outrageously futuristic fifteen years ago. That said, I do worry about how nothing ever goes away in the Internet age. I feel it's a threat to the great American tradition of reinventing ourselves.
What books did you turn to while writing your novel—both for research and  inspiration?
I'll just name a few of the books for research: Affective Computing by Rosalind Picard, works by Daniel Dennett, some articles by John McCarthy. Also, lots of books and essays on semiotics, a bad habit I got into through my love of Walker Percy, gentleman semiotician. Which gets me to the inspiration part: Walker Percy, Machado de Assis, Richard Powers (who has his own Turing Test book, Galatea 2.2), Richard Ford, Michel Houellebecq, Penelope Fitzgerald.
What are you working on now?
Another book! It's very amorphous right now, so I can't go into it yet, but so far it's been a growing snowball of archives, essays, and books. In other words, fun.
---
Further Links & Resources