When Slice magazine co-founders and co-publishers Maria Gagliano and Celia Blue Johnson launched their Brooklyn-based literary magazine in 2007, they were both twenty-three-year-olds working long hours in the demanding publishing industry and dreaming big dreams about running a magazine. Today, Gagliano and Johnson are both accomplished editors, publishers, and writers.
Gagliano spent several years with Random House before moving to Penguin, where she is currently a senior editor at Portfolio, the house's business imprint. Her own writing has appeared in BUST magazine, the Huffington Post, and the anthology Madonna and Me: Women Writers on the Queen of Pop (Soft Skull Press, 2012).
Johnson began her publishing career as a book editor at Random House and Grand Central Publishing, where she edited the poetry anthologies 100 Great Poems for Girls and 100 Poems to Lift Your Spirits. Johnson's own books include Dancing with Mrs. Dalloway (Penguin, 2011) and, forthcoming in June, Odd Type Writers (Penguin, 2013).
While many literary quarterlies struggle to sustain the passion with which they launch, six years and twelve issues later, Gagliano and Johnson have made the concerted decision to take Slice to all new heights. Issue 12 marks the launch of Slice's larger distribution, availability in e-formats, and new weekly podcast "In the Telling." Issue 12 of Slice also happens to feature short stories by not one but two FWR contributing editors: Joshua Bodwell and Steve Wingate.
---
Interview:
The Editors: Besides publishing Bodwell and Wingate for the first time, Issue 12 of Slice seems to be an issue of many firsts for the magazine: this is the first issue with your brand new distributor, and the first issue that will be available across several e-reader formats. Can you talk a bit about all these firsts?
A little-known fact with Wingate is that this is actually the second time we're publishing him—we originally published his story "Dig for Dollars" in our third issue. We'd discovered his short story collection Wife Shopping (Mariner Books, 2008) just before it was published and ran an excerpt from the book. This time, his story was plucked from our submissions pool, which is thousands of stories deep, by one of our readers. That reader didn't realize we'd published Steve before, and when his story landed on our desk we read it without knowing Steve was the author. We loved it, and with that, hit a new first: rediscovering an author in a new phase of his writing career, entirely from scratch.
We're greeting Issue 12 with a big wave of firsts. In addition to larger distribution and e-formats, we re-launched our website with a new design, and three new weekly columns to support our writers in each issue: "In The Telling," a podcast that features Slice contributors reading their work; "Encounters in Publishing," which draws the curtain on the publishing industry with articles from people in the business; and "A Quick Slice," brief interviews with Slice authors.
And one of our biggest, most triumphant firsts with this issue is that we're now able to pay our authors. We couldn't be more thrilled about this development.
We've been building up this wider reach for years. Slice is all about supporting emerging authors in whatever way we can. Our mission is to help transport their work "from the writer's desk to the bookstore shelf." When it comes to the magazine, that means not only publishing their writing, but helping them reach a larger audience of readers. So wider print distribution, e-formats, and online promotion all tie into this. We also want to help them build their career as professional writers, and as much as our payment is just a small token, we hope it's one of the first of many more paid gigs for them.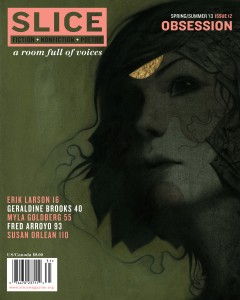 Issue 12's content was carefully curated to include writing that we feel reflects today's most talented writers. Once the issue was together, we wanted to shout it from the rooftops. We are so proud of these authors and we couldn't think of a better way to promote their work by launching our new initiatives to coincide with this issue's publication.
You are both new moms. So how did you come to decide that this moment, this issue, was the right time to make these big jumps with Slice?
Interesting insight! Being a new mom is definitely a wake-up call. You're forced to look at your life and decide which things are truly worth your time and effort (because there is only so much of it to go around!). I think for both of us, that wake-up call made us see Slice for what it truly is: An amazing nonprofit organization that we built from the ground up, that is actually working. Previously unpublished writers are finding agents and publishers after appearing in our magazine. Writers are connecting with agents and gaining a deeper understanding of the publishing industry after attending our conference. Our aspirations for Slice have become a tangible reality. When you're so entrenched in the day-to-day details you sometimes forget to take a step back and see what you've actually built. I think we both took that step back when becoming moms, and came out the other end realizing we built something truly remarkable. From that point on, we only wanted to make it bigger and better. We owed it to Slice, we owed it to the writing community we'd built, and we owed it to our younger selves (those 23-year-olds in their cramped East Village apartment, dreaming up big Slice dreams). So now that you mention it, it's no surprise that the Slice conference launched in 2011, the same year our kids were born. Soon after, we set the expansions in motion that we're launching with Issue 12. This moment, this issue, is the right time for the big jumps because we realized Slice is absolutely worth our time and effort, and motherhood has inspired us to give Slice our all more than ever (barring toddler tantrums, day jobs, and various other life details!).
Slice does an amazing job publishing well-established authors alongside emerging authors. Issue 12 is no exception; just consider even a few authors on the amazing roster of interviewees in the issue: Geraldine Brooks, Myla Goldberg, Erik Larson, and Susan Orlean. Can you talk a little bit about how you arrived at this format? Was it a priority from the beginning, or did it emerge as the magazine evolved.
It has always been our mission to bridge the gap between emerging writers and established authors. The magazine evolved out of our discontent with commercial publishing, where, by the very nature of the business, an author's platform often has more value than raw talent. We wanted to establish a space where new writers exist alongside literary legends. At first, we were nervous about whether anyone famous would be willing to take part in our endeavor. But it quickly became clear that the best writers are often the most generous ones, too. From the outset, we found support from some of the biggest stars out there. Junot Diaz, for example, appeared in our first issue. Since then, we've featured pieces with a host of literary greats: Elizabeth Strout, Salman Rushdie, Paul Auster, Lisa See, and Maurice Sendak, just to name a few. And these people all demonstrated that though there often seems to be a great divide between emerging and established writers, there doesn't need to be. All you need to do is build a space designed for them to coexist.
Slice was founded in 2007 as a nonprofit organization. Can you talk a bit about that decision and what you've seen as the pros and cons of being a nonprofit?
Being a nonprofit all goes back to the fact that we didn't want to replicate the commercial approach of our day-jobs at publishing houses. A nonprofit meant that we weren't focusing on a certain percentage of monetary growth every year. We could publish quality fiction without worrying about the bottom line, and therefore never need to sacrifice artistic integrity. In that regard, the nonprofit approach has worked very well for us. In some ways, it made the effort of publishing the magazine more difficult. Without a lot of money behind the endeavor from the very beginning, it was impossible to pay our contributors until recently. But ultimately our nonprofit status has allowed us to stay true to our mission of publishing quality work, whether an author has a big platform or not.
What's in a name? Without thinking about it, Slice just seems like a perfect name for a literary magazine. But what's the story behind the name?
We had actually envisioned serializing novels in Slice, in the spirit of Charles Dickens and other great novelists from the past. So each issue would include slices of a novel. And we wanted cutting edge fiction, the kind that slices right through the literary landscape. As bookworms, we're always interested in words or phrases that have multiple meanings! Serializing novels wasn't practical once we'd decided to publish twice a year. There was just too much time between issues—readers would have forgotten what happened in chapter one by the time the second chapter came out. So we decided to run with stories that stand alone. But the title stuck, and it works. We're drawing together slices from all sorts of writers from across the globe, and creating new literary conversations by placing these disparate works side by side.
---
Further Links and Resources: