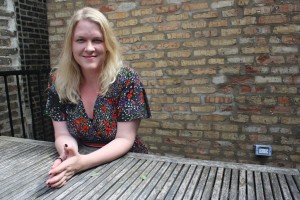 2nd Story is a live performance series and literary organization based in Chicago, bringing together writers, performers, and city-wide theater players to produce four live shows each month at Webster's Wine Bar in the city's Lincoln Park neighborhood. The stories performed are true. They are essays, in fact, real-life experiences each performer infuses with oral storytelling and fiction writing techniques to create memorable, powerful stories designed to leave each night's audience talking—or perhaps sharing their own stories with each other between performances.
Recently, 2nd Story published Briefly Knocked Unconscious by a Low-Flying Duck (Elephant Rock Productions, 2012), an anthology of performed essays culled from the series' ten-year history. As the title suggests, the essays contained in the book are raw, startling, sneaky, and ultimately wondrous in their ability to move the reader. Emblematic of the series, the selections are varied and diverse, trafficking in such topics as parenthood, sexuality, and self-identity, each revealed slowly and with both the care of the written word and the impact of spoken sentence.
The anthology was edited by Andrew Reilly and Megan Stielstra, both of whom are 2nd Story members, performers, and anthology contributors. I recently had the good fortune of chatting with Megan over e-mail while she was on tour in Michigan promoting the book. Stielstra is also the author of Everyone Remain Calm, a Chicago Tribune Favorite of 2011, and the Literary Director of the 2nd Story storytelling series. She teaches writing and performance at Columbia College and The University of Chicago, and lives online at meganstielstra.com.
---
Interview
Nick Ostdick: It would seem to me that in recent years Chicago has begun to emerge as a certain literary capital, especially for independent presses, performances series, etc. How has the fact that 2nd Story is headquartered in the Windy City influenced or impacted the reading series and its mission?
Megan Stielstra: Chicago is not cut-throat competitive. It's a big, ginormous support system. I'm biased, of course, but I think the literary scene in Chicago is second to none. Every night, there's something awesome going on—a reading, a live storytelling show, a meet-up for manuscript feedback, all of it risky and unique. I think the fact that Chicago is more financially manageable than some other cities allows us to really dedicate time and man-power to our artistic development. Instead of working sixty hours a week to make rent, I can work forty, which lends itself to a lot more time to make work. The work itself can be more innovative because it's about the art, the community, and the ideas, as opposed to the bottom line.
Hands down the best thing about the Chicago literary scene is the people—those I'm lucky enough to work with in 2nd Story, those that create other reading and storytelling events that we collaborate with and learn from, and, above all else, our audiences. Our stories belong to them.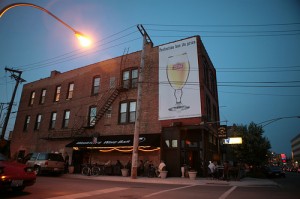 You're on tour right now in Ann Arbor promoting the anthology. Are there differences in performing in Chicago versus taking 2nd Story on the road?
We've been welcomed all over the place: Portland, Washington State, Brooklyn, Minneapolis, and Ann Arbor. But the process is always the same. Our thing is this, before we perform anywhere—be it in a bar, theater, or classroom in Chicago, or a conference, university, or theater outside our home city—we ask ourselves where we're going, what the venue is like, and who the audience is. How can we best connect to them? How can we craft our stories? What can we communicate? I'd love for our reading audience to have to put our stories down because they're inspired to write their own. That's where the name 2nd Story comes from, the idea that we tell the first stories, which will inspire our audience to tell their own.
Nearly every essay in the anthology traffics in such intimacy with the reader, as if your old friend hauled up a barstool at your local dive and began spilling his guts—the good, bad, the beautiful, the ugly. Is this a function of the stories having been composed for live performance rather than private consumption on the page?
Absolutely. There's a three-month story development process prior to every show, and a great deal of attention is dedicated to how the stories are crafted, always with that sense of audience at the forefront.
Typically, each performance starts with four storytellers, a curator, and a theme. They get together, have some drinks, and swap stories around the theme. During that initial meeting, you're throwing out ten, fifteen moments from your own personal experience that speak to that theme somehow. After that first meeting, the storytellers go away and write the first draft of the piece. Then everyone gets together and reads drafts and gives all sorts of feedback, and then splits up again for rewriting. Once the stories are tight on the page, there's a passing-of-the-torch meeting where the curator steps out and a performance director steps in.
All of our curators are 2nd Story company members, so we have our eye on the writing process and the development of the stories to really fit with the 2nd Story aesthetic. And again, being in Chicago, we're profoundly lucky to have artistic partnerships with tons of local theater companies and theater directors who serve as an outside eye.
One of my favorite selections from the book is "Foundationalysis," by Lawrence Kearns, which examines how a father attempts to bond with his budding teenage daughters by building a replica of Thoreau's Walden cabin in his backyard. Having participated in a number of readings, I believe the performers who can get a laugh from an audience are better able to hold the room. Is humor something that's a priority for you?
We approach the idea of the humor/heavy balance not so much within individual stories but within the sculpture of the entire evening. Four stories. They'll all differ in tone. If we're performing in a bar, the audience will be, at best, tipsy by the end. So we'll program the most humorous story closer to the end. You mentioned intimacy a moment ago, how the stories feel like someone is sitting next to you in a bar, telling stories. Think of the stories YOU tell friends in bars. Some are hilarious, some insane, confessional, painful. To get at a greater truth of the human experience is to have them all, as many and as varied as possible.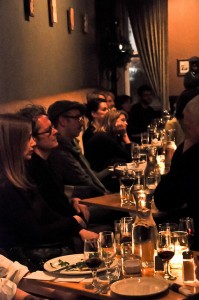 Andrew Reilly, the co-editor of the anthology, has a line in his essay that reads, "Just enough to guide, not enough to hold…" which I think is a great metaphor for the subtlety of many of these essays. The themes aren't forced, and the reader isn't smashed over the head with grand revelations. Is this effect a conscious one, or, like the incorporation of humor, is it something more natural?
No, this is very conscious. In fact, it's at the top of everything we do. There's a moment in Lott Hill's "Crazy for You" where he says, "Maybe this was the true test of sexuality. Or maybe my morality," and every time I hear that, my brain shoots back through my own experience, and I think: When did that happen to me? Or how? What can I take from it?
Is this what is meant in the introduction by "audience forward thinking?" Because I'm not sure beginning or even novice writers always think about their audience early or even late in the writing process.
You're right, I'm not sure novice writers think about that. But maybe they shouldn't. Maybe they should just be thinking about getting the words out. About making a mess. About not being so hard on yourself. Trusting yourself. That's something that a lot of experienced writers need to remember, too. I think using the oral telling in the writing process can give some of that permission to just try stuff. The words on the page don't have to be perfect that first time. If you sit down to do a first draft thinking, "How will this speak to a huge audience?" that can be pretty paralyzing. So at 2nd Story, and in the classes I teach in the Fiction Writing Department at Columbia College, it's about getting the words out first and, as Ray Bradbury says, cleaning them up later.
Did a lot of revision, or cleaning up, take place on the performed stories once they were chosen for the anthology?
Tons. We listened to podcasts, audio recordings, etc. We took notes at live performances. We asked audience members what they most remembered from a story. All of that information informed the rewriting process, and, luckily, all of the contributors were totally game and excited to be a part of the process. And for me, that's the guts of the book: so many hands touched these stories, so many people influenced their development, that every director, musician, and, most importantly, audience member, influenced it in some way.
Knowing that these selections were created for performance, I took great pleasure in reading certain passages, or, in some cases, entire essays aloud. For me, hearing a story can be very beneficial, especially in the very early and very late stages of composition. I'm assuming you wouldn't argue with that?
Hands down, I think reading aloud is the greatest tool a writer can have. You don't even have to read to someone, just alone in your room. You'll hear what's working. It's a great teaching tool. Many 2nd Story company members do a great deal of work as teaching artists in Chicago—college, K-12, and community-based teaching—and reading aloud is an excellent connection to literary skills and literacy.
You've mentioned before that a lot of time went into fact-checking these essays. Can you explain this?
As a rule, 2nd Story stories are real. The teller has really experienced this moment. I think Amanda describes it really beautifully in the intro insofar as the "contract with the audience." When you pick up the Washington Post, there's a contract that what you're reading is factual truth. If you pick up The Onion, there's a contract that some greater truth is being arrived at through totally made-up satire. 2nd Story's contract is that the teller experienced it. But at the same time, we're also crafting stories within the rules of oral storytelling and those rules aren't as cut and dry. Memory is not cut and dry. Can we prove that all those lines of dialogue were said verbatim? No. Does it matter? I think not.
When it came time to publish the book, our publisher, Elephant Rock Books, had to choose language for his distributors. Fiction or essay? These stories are not fiction. They're real. But we'd never employed fact-checking for live-performances because of the nature of memory. But the word "essay" implies a contract of truth. So the publishing committee threw a big fact-checking party, divvied up the stories and went through them line by line. We learned lots of little things.
Like what?
Sea World Cleveland is really Sea World Ohio. Amber Lynn was not on the cover of Hustler the year Sam Weller thought she was. She was on the cover a different year—and oh, how our interns loved researching that one! The gas station on the corner of blah and blah in Rockford was not an X but rather a Y. We did this through the whole book, story by story.
The emotional truth did not need checking. The emotional truth was already as real as the fingers you're typing with.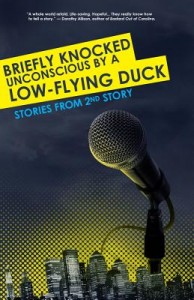 Let's talk publishing for a second. Your publisher, Elephant Rock Books, is a Chicago-based indie press. Given what's been said about Chicago as a literary epicenter, was working with Elephant Rock a no-brainer?
About a year ago, we started a publishing committee at 2nd Story. Jotham Burello, who runs Elephant Rock Books, teaches publishing classes in our department at Columbia College. He had just released a story collection that I'm just desperately in love with, The Temple of Air, by Patricia Ann McNair. He also put out All Hands on Deck, the 2nd Hand anthology, so I knew his work and was a fan. My intention was to pick his brain about independent publishing in order to go back to my committee. Our conversation went like this:
ME: Hey, Jotham, can I buy you a beer sometime? I want to pick your brain about independent publishing 'cause 2nd Story is thinking about–

HIM [interrupting]: Oh, I'll put out that book.

ME: !!!!!!!!!!!!!!!!!!!!
Turns out, he'd been to several shows. He knew our work. He believed it could live as strong on the page as it does in performance. He believed in us and he did something about it. And you know, that's a fat life lesson for me, one that I'll go to my grave trying to pay forward: believe in something and do something about it. It seems so simple, so obvious, but truthfully it's very rare.
The organization, the collaboration, and the camaraderie embodied in 2nd Story is quite admirable, and for those who might be thinking, "Hey, I want to try and do something like that," I'm curious what organizations, reading series, and writers you admire and take cues from.
I love The Paper Machete, Write Club, and Reading Under the Influence. I follow The Rumpus, Bitches Gotta Eat, and The Collagist pretty religiously. Anything at The Steppenwolf, Lookingglass, Neo Futurarium, or Theater Seven. I have a four-year-old kid, so a lot of the performance stuff I take in these days is for him. Cirque De Soliel. The Human Rhythm Project. I read anything and everything by Roxane Gay. I dig the Guild Complex in Chicago, which incubates writers and poets while they create shows together. And I read tons of student work, which kicks my ass on a weekly basis, and I do my best to return the favor.
So, after ten years, a podcast series, community teaching extensions, and now an anthology, where does 2nd Story go from here?
We believe in dreaming big. A decade ago, we were five or six people in a bar. Now we're a company of twenty-five, a fully-crafted season of four shows a month, an in-house story development process that's supported over 200 storytellers, a training center where anyone can sign up for classes, the podcast series, and a book. Our dreams for the future are equally big: we're expanding our outreach programs to use storytelling as a tool for listening and community development, expanding the school, the LA series, and the on-the-road reading series.
But at the heart of it all, we have the same goals: stories as catalysts for social change. Stories as ways to listen and learn from each other, to see that, even as we celebrate our inherent differences, there are multiple connections in our lives. We learn from so many places and people, and with so many artistic collaborators. And the more art you take in, the more you're inspired to put out, right? But above all else, we want to create stories that work to get people telling their own, both out loud and on the page.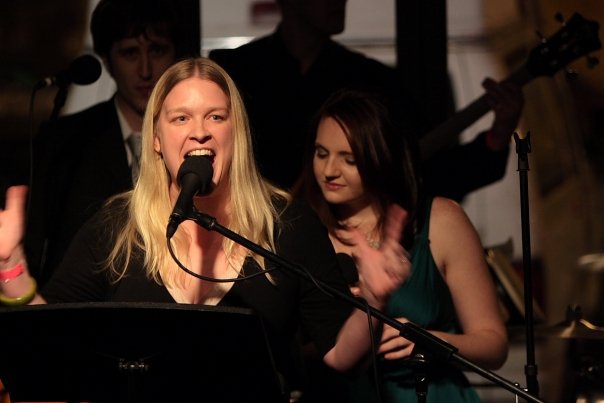 ---
Links & Resources
Visit 2nd Story's website for upcoming events.
Buy Briefly Knocked Unconscious by a Low-Flying Duck from Elephant Rock Books.
Here is a recent podcast for Briefly Knocked Unconscious, including studio recordings of three stories and interviews with Megan and Andrew.