When Elfrieda Von Riesen was a teenaged misfit growing up in the tiny Mennonite community of East Village, Manitoba, she came upon a poem by Samuel Taylor Coleridge that seemed as though it had been written expressly for her:
I too a sister had, an only sister
She loved me dearly, and I doted on her!
To her I poured forth all my puny sorrows.
And that's exactly what Elfrieda has done. Her sister Yolandi, six years her junior, and the protagonist of Miriam Toews's new novel, has always been her confidante and accomplice. Together, the pair has spent decades exploring, gossiping, and testing the waters of adulthood and identity.
Indeed, they were a mighty duo until Elf (as she is known to family and friends) developed a serious mental illness in her 40s that left her not only clinically depressed, but suicidal. All My Puny Sorrows—published in the U.S. by McSweeney's in November and by Knopf Canada in April, and winner of Canada's Rogers Writers' Trust Fiction Prize and a finalist for the Giller and Governor General's Prizes—chronicles Elf's numerous hospitalizations and teases out what it means to be utterly inconsolable.
It's a hard book, sad and angst-filled. It is also compassionate and compelling.
What's more, the fact that Miriam Toews lost her only sister to suicide in 2010, a dozen years after their father took his life, makes the novel all the more poignant.
In this fictional rendering, however, art mimics life and readers learn that the patriarch of the Von Riesen clan jumped in front of an oncoming train to end his misery and torment. This harrowing fact causes Yoli to wonder if there is such a thing as a "suicide gene." It's a gripping question since, for all intents and purposes, Elf is living what appears to be a charmed and happy life.
In fact, while standing at her hospitalized sister's bedside, trying mightily to understand the reasons for her sister's despair, she becomes angry and lets loose:
"You have this amazing guy who loves your ass off, an amazing career that the whole world respects and gives you shitloads of cash for, plus you could quit at any time and just be labeled mysterious and eccentric and then go live in fucking Paris, in the Marais or wherever that stupid…fucking…arrondissement—No, don't try talking, don't correct me with your superior knowledge of French. You have an amazing natural fucking beauty that never seems to fade, and an amazing house that magically cleans itself…You have a mother who thinks the sun shines out of your ass."
How, Yoli wonders, can this not be enough? After all, Elf is a world-renowned classical pianist and her upcoming tour will take her to major cities throughout Europe where she will be wined, dined, and feted by both fans and colleagues.
From Yolandi's perch, Elf's life looks absolutely wonderful, especially in contrast with her own ho-hum, hand-to-mouth existence.
For her part, Yolandi has been twice married and twice divorced and lives in Toronto with her precocious teenaged daughter. Her son, in New York attending college, is fast becoming an independent man. Still, paying his tuition and, more generally keeping the creditors at bay, involves constant juggling. As a struggling writer of formulaic young adult novels, Yoli longs for financial and emotional stability. On top of this, she confesses that her love life is a shambles. Worse, because of Elf's recent deterioration, she now feels pulled in 1,000 directions and fears that by dropping everything to get to Elf's hospital room, she is giving her kids, and her career, short shrift.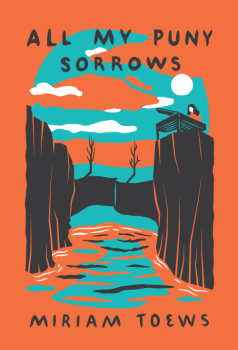 Still, these concerns pale in light of Yoli's desire to rescue her difficult, but beloved, sister from the brink. She knows it's a gargantuan task. "Elf wanted to die and I wanted her to live," she explains, making them "enemies who loved each other."
As the novel unfolds, the reasons for this bond, as well as their familial history, are slowly revealed. Nonetheless, the Mennonite underpinnings of their coming-of-age are only a sketchy backdrop. For while Toews implies that the Von Riesens were somehow near-renegades, she does not include enough detail to fully explicate this theme, an important element since not fitting into the community would seem to be a factor in the anxiety and anomie that the book explores.
This, however, is a small critique in an otherwise exceptional literary effort.
To wit: The book brilliantly investigates non-situational depression, the overwhelming pall that descends for no known reason and can turn a previously competent person into someone who takes to his or her bed, stops eating, and withdraws. It also examines the powerlessness of those who love such a person, and highlights how hard it is to complete everyday tasks when we are overcome with concern for someone else. Yoli, for example, still has to meet publishing deadlines and be there for her children, while Lottie, Yoli and Elf's mom, still has to function as matriarch to the extended Von Riesen family.
Another potent theme is the inadequacy of Canada's healthcare system. Unfortunately, while that system is frequently touted as an example of single-payer efficiency, Toews paints a bleak picture of lackadaisical physicians and overworked nurses who basically ignore Elf when she refuses to comply with their directives.
Yoli describes one encounter:
I went back up to Intensive Care and there was Elf's doctor. He was standing at the nurse's desk. He was wearing a visor like a jeweler. He was wearing ankle socks. He was the psychiatrist. I walked over to him and introduced myself and asked him if he had talked to Elfrieda lately.

"I tried to," he said, "but she wouldn't speak."

"Sometimes, she doesn't, that's true. But she's willing to write things down on paper."

"I don't have time for reading while I'm on the job," he said.
This cavalier attitude fuels Elf's hatred of psychiatry—along with the pharmaceutical salvation they typically offer—and she eventually determines that she not only wants to kill herself, but also wants Yolandi to help her. Not surprisingly, Yoli is flummoxed by the request and the resultant debate over assisted suicide-much of it waged in Yoli's head—over whether or not this can ever be a moral option, gives the book its raison d'etre. It's a sobering and intense conundrum and it is beautifully, if painfully, rendered.
Small wonder that All My Puny Sorrows has catalyzed debate on this topic throughout Canada and has kept the book on the Best Seller list there for many months.
Needless to say, this pleases Toews.
Shortly after the book's initial release in April 2014 she told reporter Mark Medley of the [Canadian] National Post that, "for me, writing is an act of survival." One can only hope that it is more than this, and that this fictional, if largely autobiographical, memorial to dad Melvin and sister Marjorie Toews has helped her grieve.
All My Puny Sorrows is a love story writ large. It also serves as a potent rebuttal to one of Western culture's most cherished delusions—that if we have love, nothing else matters. Of course, everyone wants to feel Cupid's touch. But when all is said and done, neither romantic nor platonic love is enough to cure what ails us.