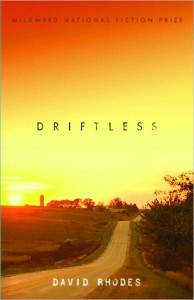 Faith and Living in the Driftless
David Rhodes' characters would rather work than talk. After all, in Words, Wisconsin, there's much work to be done: cows must be milked, hay must be mown, lawn mowers must be fixed, M60 machine guns must be repaired.
These individuals don't spend their time discussing their lives as they sit around an espresso bar on the gentrified Main Street of a bedroom community outside some major university campus. They are the last remaining inhabitants of a remote, dying town situated at the end of County Trunk Q, people who rarely sit down to chat unless there's a purpose for doing so (a meal or a work arrangement), people who limit their interactions and choose their conversations carefully.
Driftless (Milkweed Editions, 2008), Rhodes' first novel in 33 years, and the sequel to his last published work, Rock Island Line presents the further chronicles of July Montgomery, a drifter-cum-farmer who's finally settled down in Words.1 Rhodes has relinquished the epic narrative form of the earlier novel, which focused solely on July, for a series of vignettes featuring the many residents of Words. While relegated to an equal part in an ensemble cast, July still drives the story. A new approach is understandable: the time between the books is greater than the span of Rhodes' entire life when he wrote Rock Island Line. Many writers develop a more complex, nuanced view of the world as they mature. Yet few experience what happened to Rhodes.
In 1977, two years after Rock Island Line's release, the author was in his late 20s and had published three novels, each well received even if they weren't flying off the shelves. He wrote with a level of insight and observation rarely exhibited by young writers. He described old age like someone who'd experienced it firsthand. He described death like someone who'd been to the margins of life himself and pulled back at the last second.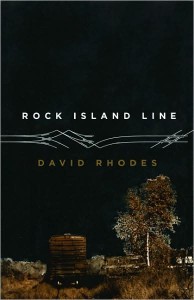 Rhodes was having trouble publishing his fourth novel, entitled Local Towns, which he would eventually abandon, but this setback was minor compared to what happened next.2 In a series of events that brings to mind one of his characters, his life was changed irrevocably by chance. In his excellent profile of Rhodes in Poets & Writers, Kevin Larimer recounts this tragedy: Rhodes, married and with a young daughter, had given away his prized motorcycle to a neighbor. Then, months later, the neighbor brought the bike over to show Rhodes, who decided to take it for one last spin. There was an accident, which resulted in Rhodes becoming paralyzed from the sternum down. The recovery was grueling; Rhodes spent nearly two years in the hospital and developed an addiction to painkillers in the process. His wife and daughter left him.3
Half a decade later, in 1983, after Rhodes had long since disappeared from the literary landscape, John Gardner posthumously published On Becoming a Novelist, which praised Rhodes as one of the "best eyes in recent fiction." 4 Gardner cited an extensive passage from Rock Island Line as an example of the power of metaphor in fiction, and finished his critique of Rhodes with the following compliment: "Nothing in Rhodes' vision is secondhand." Rhodes continued to write after the accident – he would never stop – but 25 more years would pass before his unique vision again reached the published page.
In the prologue to Driftless, Rhodes explains that the title of this book refers to the Driftless Region of Southwestern Wisconsin, an area spared the relentless glacial gouging and grinding that flattened or rounded off much of the Midwest. "Singularly unrefined," he writes, "it endured in its hilly, primitive form, untouched by the shaping hands of those cold giants." 5
Words is situated firmly in the Driftless. The town is frozen in time, a relic whose best days – if they ever existed – are past. The novel opens with July Montgomery discovering his cows have been spooked by a panther. The panther and July anchor the novel, which is structured as a series of intertwined subplots that wind their way back to July via the eccentric residents of Words. They include: Grahm Shotwell, a dairy farmer who's making a pipe bomb in his shed, and who, with his wife, Cora, will fight a David-versus-Goliath battle against the regional dairy co-op; Grahm's sister, Gail, a quasi-nudist, who will flesh out her burgeoning career as a singer-songwriter while she toils at a nearby plastics plant; a repair-shop owner and widower, Jacob Helm, whose universe will be rocked when he finds Gail naked, strumming her bass on her porch; and Gail's neighbor, Violet Brasso, who cares for her younger sister, Olivia, wheelchair bound since youth. In addition, there is Pastor Winifred, who's out to experience a spiritual awakening, and who also happens to be the niece of Rusty Smith, a retired farmer with a penchant for dog-fighting. You get the idea. The cast grows, and the subplots split, converge, and split once again.
For the most part, these quirky characters are believable, if only for the reason that they've chosen to remain in this forsaken place. A random population sample in a larger, thriving city would never generate folks like these. Rhodes writes of the town's denizens: "Like people who refuse to update their wardrobes, they simply ignored all evidence that their manner of living had expired."
Similarly, some readers might find a dog fighting ring, the experience of a "Great Omnipresent Looking," a paraplegic's miraculous recovery, the late-in-the-book appearance of two lawyers from whom July just happened to lease his land, and other perhaps too-good-to-be-true coincidences implausible in a normal town the size of Words. But Rhodes is aware of this. That's precisely the point—Words is far from normal.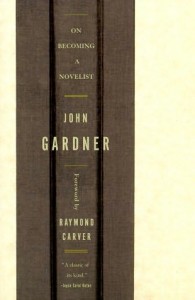 Much is made of Gardner's praise of Rhodes in On Becoming a Novelist, which has reached levels of ubiquity in reviews of Driftless (including this one). This isn't surprising, and it's a great angle, considering Gardner's stature and the fact that it spurred Rhodes's reentry into the publishing world.
Still, it might be Gardner's On Moral Fiction that provides a better blueprint for understanding Rhodes' work, despite the fact that it never mentions the author. This book, a screed against postmodernism, capricious trends in critical theory, and –isms in general, posits that artists have a moral responsibility to create art that "seeks to improve life, not debase it." 6 Gardner praises writers who treat their characters with respect, whose work redeems humanity, whose universal ideals will hold up in future generations.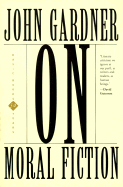 Gardner wasn't calling for moral fiction in the silent majority vein. His call for moralism (an –ism, nonetheless, though Gardner might argue the only one that matters) is a reaction against writers who place too much value on cynicism and spectacle. For Gardner, it's the difference between art that tears down and art that edifies. He writes:
"Art is essentially serious and beneficial, a game played against chaos and death, against entropy." He goes on to say that it is good "only when it has a clear positive moral effect, presenting valid models for imitation, eternal verities worth keeping in mind, and a benevolent vision of the possible which can inspire and incite human beings toward virtue, toward life affirmation as opposed to destruction or indifference."
This sounds like a blurb for Driftless, where the residents of Words tackle issues of powerlessness, tragedy, and belonging – timeless human questions – in philosophical and heroic ways. Or, as Gardner might say, it's a "careful, thoroughly honest search for and analysis of values."
Here's Jacob Helm, owner of Words Repair Shop, ruminating on his life and work:
Several levels below full consciousness, a useless passion quarreled against Jacob's well-being. He could feel it, relentlessly striving to pollute his thoughts. Machines could be fixed, returned to their functional state of health, but why? To what end? What purpose justified mechanical purpose? Why should things be repaired if the lives they meant to enhance remained empty?
These thoughts come to Jacob as he ponders his wife's death. Years have passed, but it's still an unbridgeable crevasse in his soul.
Rhodes' moral style was evident in Rock Island Line, but it comes into its own in Driftless. In the former, when July confronts terrible tragedies and inexplicable good fortune, he accepts his fate and reacts by leaving, failing to construct a coherent explanation for what's happened to him. The characters in Driftless confront similar issues, yet while they accept them stoically, they also make further progress in resolving why these things happened to them in the first place.
It's tempting to read July as a fictional double for Rhodes. Like the author, July's life is punctuated by stark and incomprehensible tragedies. When Rhodes leaves him at the end of his previous novel, July had lost his spouse in a botched home invasion, and the story concludes as he heads to destinations unknown on the Rock Island Line. There is little indication of what might happen to him.
Rock Island Line was the story of a young man forced to accept the solitary life he appears doomed to live. In Driftless, July understands he is but one of many individuals who share the same experiences: love, death, joy, and loss. He also understands that there is value in this community. July would never leave Words. Driftless is a more hopeful book in this regard. After all of the death in his youth – or, perhaps because of it – July has fashioned a meaningful life. He's figured out how to live, how to make sense of his life, and part of this is how others make sense of his life. Near the end of the book, as some of the residents meet town-hall style to determine how they'll confront the corrupt diary cooperative, July makes a speech underscoring his philosophy:
The trouble with some people … is they believe their thoughts are new. They don't think anyone else has ever thought them … I don't give a damn about civilization, dying or otherwise … Most of us live without trying to change anything.
In Words, things happen to people – good things, bad things, tragic things, glorious things, important things, and unimportant things – but rarely do characters have the control over their life that they think they do. This is an unceasing theme in Rhodes' novels. In this respect, people don't move through time and space as much as it moves through them.
Notes
1. Rhodes, David. Rock Island Line. Minneapolis: Milkweed, 2008. Print.
2. Trachtenberg, Jeffrey A. Wall Street Journal 19 Sept. 2008: W5. Print.
3. Larimer, Kevin. "After the Flood: A Profile of David Rhodes." Poets & Writers Sept./Oct. 2008. Print.
4. Gardner, John. On Becoming a Novelist. New York: Harper & Row, 1983. Print.
5. Rhodes, David. Driftless. Minneapolis: Milkweed, 2008. Print.
6. Gardner, John. On Moral Fiction. New York: Basic Books, 1978. Print.
Further Resources
– You can read an excerpt from Driftless in the Wall Street Journal.
– Listen to Alan Cheuse's review of the novel on All Things Considered.
– Preview John Gardner's On Moral Fiction via GoogleBooks.
– Read "Deep Water," Kevin Larimer's August 2008 interview with David Rhodes.
– This slide show from Poets & Writers offers an introduction to each of Rhodes' novels.