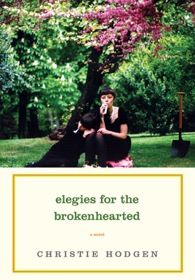 How do we honor the dead? Since ancient Greece, poets have answered that question with elegies, those mournful, incantatory poems that attempt to make sense of loss. Pushcart Prize-winning author Christie Hodgen follows suit in her third book, Elegies for the Brokenhearted (W. W. Norton), a novel comprised of five truly melancholy elegies that are anything but depressing. It's a stunning portrait of Mary Murphy, a taciturn narrator uprooted so many times in childhood by her serially divorced mother that she weaves her own story through odes to the people she's lost. Thanks to Hodgen's buoyant, exuberant prose, what emerges is truly a life shaped by death.
Readers familiar with Hodgen's previous two novels, Hello, I Must Be Going and A Jeweler's Eye for Flaw, will not be surprised that Mary grows through grief. Her lost friends and loved ones are down-and-out, depressed ne'er-do-wells. There's beloved uncle Mike Beaudry, "the chump, the slouch, the drunk, the bum," drawn fatefully to New York City by John Lennon. Mary remembers classmate Elwood LePoer, ill-fated college roommate Carson Washington, and James Butler, a gay piano prodigy living out his days in an off-season resort. At the novel's heart lies Mary's mother, who closely resembles Elizabeth Taylor in looks and in love, and whose waywardness informs Mary's own.
Mary always addresses the dead as "you." It's a jarring effect, but readers will be rewarded for taking it in stride. This is not the "you" of Bright Lights, Big City, or even the "you" of Choose Your Own Adventure stories; it's the "you" of poetry – the muse. The second-person narration creates intimacy, and it reminds us that the novel takes its inspiration from a poetic form.
Hodgen's father is poet John Hodgen, and poetry influences her novel in no small way. She has a knack for rhythm, repetition, and rhyme. But her use of figurative language shows the true measure of Hodgen's prosaic talents. An old clarinet is "long dead in its coffin", three roadies had about them "the meanness and desperation of pound dogs." While they do little to progress this coming-of-age story, Hodgen's images are a joy to follow to their outright conclusions:
Throughout your childhood you waited like a customer in line at a complaint window. Somber, patient, holding a numbered ticket in your hand, you believed there would come a day, one day your turn would come at the head of the line and you would be given the chance to explain to someone, a surly employee in blue coveralls, your predicament. I believe some mistake has been made. I do not belong here.
True to poetic form, the novel's elegies do not exalt the departed. How could they? The characters are always fresh out of luck, and their crumbling, post-industrial town never fares any better. Our narrator resists the elegiac temptation to mythologize with her darkly funny, frank descriptions and the power of her bleak landscape. "We were poor, our lives filled with the stupid things that poor people did . . . " Mary reflects, "[like] crabs topping each other in a basket instead of trying to climb out of that basket."
Each person influenced the course of Mary's life, and their elegies detail how. "I'd come to believe that what joined two people wasn't blood, or fate, or signals granted on high – what joined people together were the small actions they performed for each other each day," Mary states. Those actions might be deliberate, but more often accidental: a tragic death, an unexpected insight, the refusal of a ride on the highway.
The real pleasure of Elegies for the Brokenhearted is discovering Mary Murphy herself. At first, she is an observer, limiting her opinions to those of agreement and her expressions to the occasional sarcastic gesture – "those years, [eye rolling] was more or less my only form of communication," she says of her childhood. Slowly Mary emerges between the lines of her elegies, no longer just a narrator, but really the protagonist of her own story: a woman who can stand up to her mother, a friend who rises to the occasion, someone who never wins and yet is still a winner. What we find is a character fully at home at the intersection of loss and change. It's a remarkable thing to honor the dead through life, and Elegies for the Brokenhearted is remarkably terrific.
Further Links and Resources