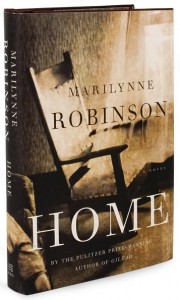 Thomas Wolfe may have been right that you can't go home again, but Marilynne Robinson's latest novel, Home (FSG, 2008) proves that you can never fully leave it behind. In Robinson's past two novels, Housekeeping (1980) and Gilead (2004), she created an intricate, layered domestic life centered in small towns, patiently unveiling her characters through the disappointments and victories of daily life. Her third work of fiction centers on the reunion of the aged Reverend Robert Boughton and two of his grown children, Glory and Jack. Robinson introduced the Boughtons in Gilead, but in that earlier book the family played a secondary role to the musings and advice of John Ames, Gilead's reflective, epistolary narrator. Home is told in close-third person, with Glory most near, the strongest of the three Boughtons, and thus most relied upon.
It is the 1960s in rural Gilead, Iowa. Jack Boughton returns home after a twenty-year, largely silent absence, offering his widowed father and middle-aged sister, Glory, no details about those lost years or the cause of his return. Glory, herself cast back upon her father's house after a shadowy misadventure in love, reflects on her desolation at being home again — "What an embarrassment that was, being somewhere because there was nowhere else for you to be. All those years of work and nothing to show for it. But you make the best of things. People respect that." — and thinking of Jack, almost as an afterthought, "Clearly he, too, did not choose to be there." Each of them love the old man, and they express this love most clearly through tenderness – restoring a garden gone to seed, fixing up the old DeSoto that has been rotting in the barn for decades, brushing the Reverend's hair and helping him dress, cooking and sharing meals.
Home is a quiet book. Robinson adds no facile dramatic plot devices. Rather, the interaction of her three main characters carries the pure weight of life: playing the piano, going to the store, washing up dishes, all while trying to dry out, face demons past and the ever-present sense of life's brevity – since Robert Boughton is likely in his final weeks of life. The Civil Rights movement hums distantly on the television, but Jack seems to be the sole channel to that painful larger history in the insulated town. Robinson reveals Jack as an estranged observer of his own family, though they have always loved him best for what Glory calls his "chimerical, piratical, mercurial" nature. Now home, Jack's silence, omissions and mysteriousness prolong the slow rebuilding of trust. The Boughtons have always suffered for Jack, who disappeared often and got into mischief, sometimes of a serious nature, as a boy. Jack's departure after getting a local teenage girl pregnant nearly crushed them: "They were so afraid they would lose him, and then they had lost him, and that was the story of their family, no matter how warm and fruitful and robust it might have appeared to the outside world." Their pain compounded when Jack's little daughter dies in an accident, having never known her father.
One great pleasure of this tale of imperfect return – for Jack is his own worst enemy, even as he begins to trust and appreciate his long-suffering younger sister – lies in Robinson's lavish idea of grace. Glory gives both Jack and her father an unconditional respect and reverence that allows them to forgive, if only for brief moments. "There is a saying that to understand is to forgive, but that is an error, so Papa used to say. You must forgive in order to understand. Until you forgive, you defend yourself against the possibility of understanding." Jack returns home a damaged man; his absence has been the enduring sorrow of his father's life. Glory recalls her mother saying, "I believe that boy was born to break his father's heart." Still, Glory hopes these lost men possess the ability to change:
She wished it mattered more that the three of them loved one another. Or mattered less, since guilt and disappointment seemed to batten on love. Her father and brother were both laid low by grief, as if it were a sickness, and she had nothing better to offer them than chicken and dumplings.
Glory's chicken and dumplings (and all her many acts of restoration) do the yeoman's work of drawing her drifting father and brother back into the warmth of family.
That inexorable pull of home overcomes Jack's reticence to face the questions, honesty, and years of his father's repressed pain and unanswered prayers. As Jack and Glory help their father into bed, the old man frets, "All of them call it home, but they never stay," thinking of his seven children, all of whom left Gilead when they had the chance. Robinson evokes all the complicated pathos of home without a single false note of sentimentality. Her simple, stripped-down language makes even brief dialogue ring with emotional truth, like this exchange between Jack and Glory:
She said, "So you really are thinking of staying here?"
He shrugged. "The thought has definitely crossed my mind."
"Well, I'm surprised."
"And you want to leave."
"Yes I do. I hate this town."
"Why?"
She said, "Because it reminds me of when I was happy."
Happiness may elude them all in the end, but one has the sense that grace is a force that far exceeds good cheer. After all, genuine tragedy mars the Boughtons' lives and guilt has built inroads into all three minds – Robert, Glory, Jack – in such a way that they have put up walls against disappointment and a guard against kindness.
At the beginning of the story Reverend Boughton receives a letter announcing Jack's intention to come home. The elderly gentleman labors over his answer, addressing the envelope in spidery handwriting and remarking to Glory that he hopes the post office will be able to decipher it: "If he was disappointed and Jack did not come home, he could tell himself that the fault was his own, taking the bitterness of it all on himself and sparing his miscreant son." What Marilynne Robinson can do with such a passing act of kindness makes Home a dazzling work of honesty, power and, ultimately, hope. As the Reverend Boughton says, "Hope is a very valuable thing, since there is not always so much to rejoice about in this life."
Further Resources
– B&N offers excerpt from Home.
– NPR's Lynn Neary talks with Robinson in Iowa, where the writer lives and where Gilead and Home are set.
– Robinson reads at the LAPL: