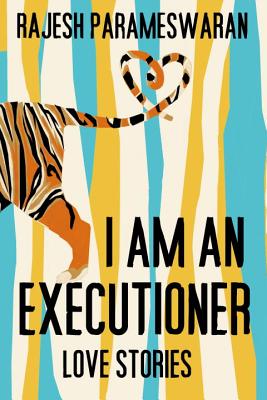 It's true: these are love stories. But as love stories go, these aren't the happy ones. A love story that ends—almost by definition—does not end well. Furniture flies. Lies proliferate. Hearts break. Ultimately, looking back on it all, either in this collection or in real life, it's love's power to heal and destroy that fascinates us, from beginning to end.
In all of Rajesh Parameswaran's stories—from the tiger who falls for his zoo keeper, to the husband and wife drawn together in a deadly game of medical malpractice, to the executioner blinded by desire for his young wife's thigh—love abounds. It isn't the type of love that causes twittering cartoon birds to land on outstretched fingers. This isn't Disneyland (not even CivilWarLand). These are exceptional loves disquieted by obsession, because in many of these tales disappointment follows truth like a stalking tiger.
Parameswaran writes, "Certainly it was terrible for him to have died so young, she thought, before his daughter had even finished college or started a family." The story, "Demons," concerns a woman who finds her husband dead on their living room floor. She dreams the whole while of other lives with other people. Parameswaran keeps piling on the little disappointments of their marriage, until they spill over. The new widow, Savitri, pines for something more, but also cannot deny her affection:
But was it Savitri's fault? She couldn't take all the blame. After all, he was such a simple-minded man, frustratingly so, and stubborn. But hadn't this also been his virtue? Hadn't his family always been the first and only thing in his heart?
Love, it seems, can go on like this in a constant ebb and flow. And most of these stories read similarly to these lines, pushing at the brink, sometimes being pulled back, but all too often going over.
The truth about these stories: they'll break your heart. This collection might overwhelm a straight-through read. It would crumble your heart, then stomp it to pieces. After every story I had to stop and breathe, to let the feeling pass before going on to the next. These stories haunted me not because of the words within, but the implications and possibilities that Parameswaran sets spinning off the page. A good story should change the reader—through idea, desire, passion, or perhaps even love. Many stories in I Am an Executioner open the door and beckon the reader to enter.
In "The Strange Career of Dr. Raju Gopalarajan" one pities a man masquerading as a doctor, lying to start a life in which he is everything he has ever wanted to be: desired, skilled, and successful:
Gopi felt overjoyed at how well he had done. Then he danced, just for a minute. Afterward, sitting down behind his desk, he grinned his little-boy grin. Then there was quiet. No strange creatures stirred in the walls, no one rang on the telephone. And in the quiet and the stillness, the sound of Gopi's own heart returned to him, and for a brief moment, the poor man saw himself as if from a distance. He saw himself as we see him, sitting alone in an office on an empty country highway.
Pity the man whose wishes are all fulfilled. The things Gopi desires finally become a reality: his wife takes pride in his success, friends seek his advice, clients trust his judgment. Purpose fills his days now. But it's a sham, something he has invented. But like the man, the reader can't help but hope it turns out well—even as the lies begin to fray.
Gopi's story stands in for blind love, one hopes—beyond all evidence to the contrary—for success. To the impartial observer, it's obvious these tales must end in heartbreak and disappointment. Are these love stories? They show love in extremis, but isn't that half the story? Love is sadness, hope, desire, passion, disappointment, pain, and happiness. But as these stories show, sometimes love beats definition, and one must simply surrender to the mystery.
---
Further Links and Resources
Read an interview with Rajesh Parameswaran in Granta.
Read the story "Elephants in Captivity" at FiveChapters.
Buy I Am an Executioner: Love Stories on Indiebound, Powell's, or at Amazon.