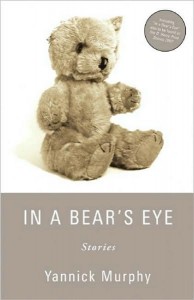 Every author is an airplane.
Anton Chekhov is a C-9A Nightingale. Cormac McCarthy is a Focke-Wulf Butcher-Bird with cowboy boot decals. Lorrie Moore is a B-2 Spirit stealth bomber. Hunter S. Thompson is a space shuttle painted to look like a gelcap.
Fun, right?
This particular game is not one played by Yannick Murphy's characters in her latest story collection, In a Bear's Eye; but it is the kind of game they play with each other—and that Murphy plays with us—one which not only illuminates character but also points toward truths about the human mind and imagination.
In the title story, a boy in close proximity to a large bear walks across the bottom of a pond. A single mother tries, and fails, in "The Only Light to See by" to control her daughter's growing fascination with a murder site. In "The Lost Breed," a group of researchers seek the breed of dog that accompanied Simon Bolivar; instead, just before a loved one dies, they encounter a rare and beautiful bird. Murphy and her characters are preoccupied with random accidents and death; more than a dozen children find themselves imperiled in these pages. But the people of In a Bear's Eye are also exuberant, playful. Their warmth makes us all the more terrified that something will happen to them. But what is so surprising and pleasing is not only the strength of feeling Murphy conjures in readers, but how succinctly she achieves this goal. The longest story in the collection is ten pages long, and most are under four pages.
A few of the stories are a bit opaque. In these, the imagery remains interesting and the language beautiful, but there is something suppressive – even curmudgeonly – about their lack of clarity. And the prose occasionally lapses from musical to monotonous; a repeated noun-verb construction of sentences, while giving more deliberately paced stories a sense of urgency, feels overused, making some of the shorter stories feel rushed or cold.
But it would be unfair to linger on the negative aspects of a collection filled with so much genuine surprise and strange beauty. How ungrateful does this reviewer sound complaining about a few pockets of thin air after completing a journey that has lifted him up in the air and deposited him somewhere entirely new?
Which brings us back to our game: Yannick Murphy is a re-creation of the Wright brothers' Kitty Hawk plane. Picture a simple design: a winged frame, a motor, a crude seat, a finned tail. It was not built with trans-continental flights or structural aesthetics in mind. Its purpose becomes clear once you are in the air, with the wind pushing against your face, the dunes and scrub far beneath you, an ocean of froth-tipped waves in the distance. Suspended high above the ground, you find yourself shocked at how few pieces of machinery conspire to hold you aloft, at how much you suddenly regret having to descend through the air and—finally, eventually—return to earth.