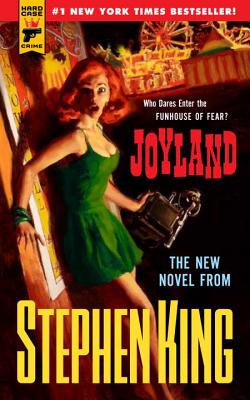 Why did Stephen King wait so long to set a novel in that horror staple, the amusement park? King answered this question in his "Today Show" interview the day before the paperback-only release of Joyland: he actually had an amusement park in mind when he began work on The Shining. Instead, he opted for the iconic and terrifyingly isolated Overlook Hotel. But this is a fascinating revelation: might Joyland be The Shining's runoff developed into a new novel?
In part a coming-of-age story, Joyland falls on the lighter side of the Stephen King spectrum. In a North Carolina amusement park during the summer of 1973, college student Dev gets a job running rides and dancing the Hokey Pokey dressed as a dog—and becomes determined to solve the mystery behind the Horror House murder. Colorful characters abound, including a feisty fortune-teller, an ultra-cool ride jockey, and a wheelchair-bound ten-year-old with "shine"-like abilities. A combination of authentic "carny" slang and King's own linguistic inventions ground a narrative that might otherwise border campy.
Ultimately Joyland centers on heart in every sense of the word. King tackles this subject both figuratively and literally, from courageous acts fueled by intense romantic, platonic, and familial love, down to section breaks indicated by heart shapes printed on the page. The thrills do feel predictable in the end, and in that regard echo some Y.A. horror clichés. But Joyland, like the attractions that populate it, is more enjoyable for the ride than the destination.
---
Further Links and Resources:
Read Jordan Millner's essay on Stephen King's 1978 story collection Night Shift.
Read Shawn Andrew Mitchell's recent review of Ben Percy's horror/suspense novel, Red Moon.
---