Nick Scorza and I were students together in the MFA program at Ohio State. I mainly remember him workshopping realistic fiction set in the Czech Republic, so I was intrigued when I learned that he had published a supernatural YA novel last fall. That made it easy to decide what to read next—I bought a copy of Nick's book and spent the next two afternoons absorbed in the uncanny world he had built.
In People of the Lake (Simon and Schuster), teenaged Clara Morris flees her home in Queens to escape her mother's irritating boyfriend and spends her summer with her father in the small town of Redmarch Lake, which turns out to be one eerie place. According to Clara's father, "Bad things happen in the woods, especially by the lake." Worse, the townspeople seem downright hostile to outsiders, except for one boy named Neil, who invites Clara to a party where she is treated as "a confirmed actual person" and begins to hope her summer might go well after all. The morning after the party, though, Neil turns up dead, drowned in the creepy lake. Even stranger, Clara keeps thinking she sees her twin sister Zoe around town—but Zoe died when she and Clara were eight years old. Even for twins, Clara and Zoe were unusually close, sharing their own invented language. As she unravels the secrets of Redmarch Lake, Clara learns something about the death of her twin that upends her very sense of self.
Interview:
Danielle LaVaque-Manty: People of the Lake takes place in a small town next to a lake that seems unnaturally, eerily still. How did you select that setting? Were you inspired by a real small town near a deep and disturbing lake?
Nick Scorza: The novel is set vaguely near the Finger Lakes in upstate New York. I went camping there once with the Boy Scouts when I was growing up, and I remember it as an eerily beautiful place—but lakes figured prominently in most of the camping trips I can remember with the scouts or my family. There was almost always something primordial and haunted about them.
I always felt that swimming in the ocean has a strange sort of duality—you're in a place full of light and sun and people, but partially submerged in this vast, dark, and ancient thing that envelops the earth. Lakes, on the other hand, are all dark and ancient, and even if you're splashing around in one as an unruly teenager, you can't help but feel like an uneasy guest.
How did you think about genre and audience when you started writing this book? One blurb calls it a "haunting small-town mystery," another calls it a "ghost story," and your Twitter profile calls it a "YA supernatural thriller." Did you think of the novel as any one of these more than the others? And did you set out to write for teen readers, or did the character you wanted to write about just happen to be a teen?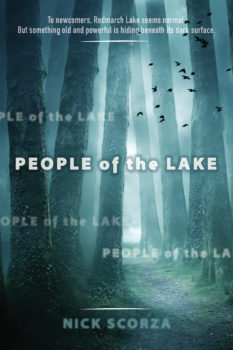 I feel a bit guilty for not just saying this is a horror novel—that's what I think of it as, even though it may not be the darkest or bloodiest sort of horror. I was afraid some readers might be put off, but I probably should have just gone with my gut. That said, I think all the other descriptions are accurate—it fits in the ghost story tradition and revolves around a central mystery, so I'm not that bothered by it.
For some reason, this idea came to me as one centering teen characters. Maybe it was all those summer camping trips and their attendant ghost stories and legends. It also felt appropriate because Clara, the main character, is growing up and learning who she is at the same time as she's learning some frightening truths about where she comes from and the way she's always understood the world.
I want to avoid giving any spoilers, but I'll say that the book includes interlocking mysteries of different kinds—about a trauma that occurred in Clara's personal past, about her father and his family history, about the social dynamics of the town near the lake, and about some grisly murders that take place there. I'm wondering how tricky it was to build the connections between these elements. Could you tell us a little about your plotting process?
I wouldn't say that plotting this book was easy—I wrote an outline, then veered off it many times—but it came together more naturally and more easily than other parts of the book. Some of it was like a jigsaw puzzle—you know the picture you want to present in the end, and you cut it up to obscure it and make the reader put it together—but some of the puzzle pieces were missing even from me until well into the writing process. Part of the magic of writing is that the work you end up with is almost always greater than the sum of its parts and resonates in ways you couldn't have predicted.
The book includes a few "historical documents" from Clara's father's files, which I loved. Did you have to do much research to decide how these documents should sound? I'm thinking especially of the one from circa 1400.
I read up on the history of the region and on Iroquois/Haudenosaunee history and legends. I love getting the flavor of a time and place through the sound of language as a reader, and it was something I was really hoping I could capture as a writer.
I also did research on twins and twin loss—it comes up fairly early in the book that Clara has lost her twin sister in a tragic accident. I'm not a twin, though I always wondered what it would be like to have one, and I could only imagine what it would be like to lose one. As part of that I read Christa Parravani's harrowing memoir Her, about growing up with and losing her identical twin sister.
You've also published literary and speculative short stories for adults in venues like Dogwood, Hobart, and Beneath Ceaseless Skies. What type of fiction do you most enjoy writing, and what do you most enjoy reading? Do you read much YA fiction? If so, who are your favorite YA writers, and why?
I read pretty widely across the spectrum of literary and speculative fiction—I probably read more adult fiction than YA, but I still read YA frequently. I've been writing more speculative fiction recently but try to always come back and write things that would be considered more conventional lit fic. I love reading (and I try to write) work that's true and beautiful, or that's experimental and thought provoking, or that's pulpy and fun, or that combines all of those things. One of my problems is I want to be every kind of writer.
As a kid I loved the Narnia books and Madeleine L'Engle. I came back into reading, and thinking about writing, books for young adults mainly through Philip Pullman's His Dark Materials series. Two YA books I really liked recently are Mindy McGinnis' A Madness So Discreet, which is a (very dark) gothic mystery set in a 19th-century mental hospital, and Moira Fowley-Doyle's The Accident Season, which is a spooky and lyrical coming-of-age story.
You write for your day job, as well—for the human resources department at NYC—which I imagine requires a very different type of writing. Do you think that helps you as a fiction writer, or hinders you, or neither?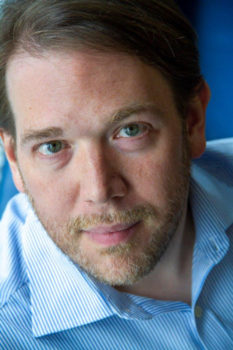 The kind of writing I do for work feels for the most part separate from my fiction writing. Someday I might write an epic of City government civil service, but not anytime soon. My day job can be very satisfying, but the satisfaction I get from it is totally different—it's knowing something I wrote might help someone apply for and get public assistance in a time of need. I rarely feel like my work and fiction writing are drawing from the same well (beyond the fact that both take a lot of energy and focus).
Could you talk about your path through writing the novel, and your path to publishing it? Were these quick and easy journeys, or long and arduous ones?
It was definitely long, and in places arduous. My first agent changed careers while I was working on the novel. Luckily, her colleague, who is now my current agent, is also excellent and really helped me hone the book through multiple revisions. I worked with a sensitivity reader, and with multiple editors at my publisher. Everyone involved in the process was wonderful, but it took a long time and a lot of work to get this out there as a physical book.
What should readers expect to see from you next? What are you working on right now?
I'm working on a new novel, also YA, but more historical fantasy than horror. It's set in a kind of magical Gilded Age New York. Now that this book is out, I'm really hoping to get some more short fiction written, if I can find the time.