In a 2008 interview, Marilynne Robinson told The Paris Review, "after I write a novel or a story I miss the characters‒I feel sort of bereaved." So, to her readers' great good fortune, the author now returns for a third time to the complex denizens of her fictional Midwestern town of Gilead, Iowa, with Lila, a 2014 National Book Award Finalist, and the free–standing prequel to Gilead (2004) and Home (2008).
Lila Dahl Ames is known to readers of the prior books as the mysterious drifter who arrived out of nowhere in the first novel, married elderly widower Reverend John Ames, and bore him a son. In that first book, Gilead, which won the Pulitzer Prize, the couple's seemingly unlikely love story was told as an epistolary novel written by Reverend Ames to his young son, intended as a posthumous memoir a few years hence. Lila next appeared more obliquely as a supporting character in Home, a National Book Award finalist, the story of the return to Gilead of Jack Boughton, estranged son of Reverend Ames's best friend. Now, Robinson explores Lila's point of view, in close third-person, in Lila's plain, vivid, uncompromising voice, telling Lila's back story of harrowing poverty and homelessness, as well as her remembered version of meeting and coming to love John Ames.
Lila's memories begin with being "stolen" as a child by Doll, a vagrant woman who kidnapped her in a "crime of desperate kindness," rescuing the little girl from near-fatal neglect. Doll admonishes Lila, saying, "Now don't you go dying on me"; wraps her in her worn shawl; protects her to the extent possible during life on the road; and teaches her to read, to endure, and to love. Despite the years that follow Doll's death of suffering and hardship, the early experience of her nurture makes possible Lila's initial cautious and ambivalent approach and response to Reverend Ames, "that beautiful old man."
She wanted some things from the store, so she had to walk past the church. He was out in front of it, with his hands on his hips, looking up at the roof. But he turned and saw her and said, "Good afternoon." She nodded and kept on walking. He caught up with her and fell into step beside her, a little out of breath…It felt very good to have him walking beside her. Good like rest and quiet, like something you could live without but you needed anyway. That you had to learn how to miss and then you'd never stop missing it.
In that same conversation with The Paris Review, on the topic of why she writes nonfiction, Robinson said, "The best essays come from the moment in which people really need to work something out." This is certainly also true of the best fiction. Lila struggles fiercely over the course of the novel to work out the puzzle of "existence." She studies Ezekial, ponders, writes in her composition book, and occasionally talks to Ames about questions of faith and doubt. The question of who is saved and who is damned, particularly preoccupies her. One afternoon Lila listens as Ames and his friend Reverend Boughton talk preacher-shop and comes to the troubling realization that certainly Doll, the woman who loved her, and possibly Lila herself, were not, "as Boughton said, among the elect." Ames, a gentler man and theologian than his friend, tries without success to comfort her.
 That night, lying against the warmth of him, she said, "Maybe you don't have to think about hell because probly nobody you know going to end up there."

After a moment he said, "I suppose there's an element of truth in that."

"Except me."

"Lila," he said, "I have to preach tomorrow. If you put more thoughts like this in my head, how am I supposed to get any sleep?"… Maybe he couldn't think she would go to hell, because he loved her.
Lila's question, and her attempt to work it out, illustrates the liberal Christian faith which informs the author's thinking and writing as significantly–though differently–as Flannery O'Connor's Catholicism. Robinson speaks for Lila; Lila speaks for Robinson. Again, as the author said to The Paris Review, "In my tradition there's a certain posture of graciousness you have to answer to…The idea that you draw a line and say, the righteous people are on this side and the bad people on the other side–this is not gracious."
Robinson is a deeply serious writer, posing and exploring important philosophical, psychological, and theological questions. But she is also a unique and exquisite stylist; her prose is a delight; her fiction can live and breathe as pure story. The author's brother predicted she would become a poet, she told The Paris Review. Although Robinson claims writing poetry as a child convinced her otherwise, her indelible hallmark remains metaphor. Images of freedom and confinement, shelter and exposure, leaving and staying, run throughout Lila. And above all, images of water, extended metaphor drawn from Lila's various experiences of and in the river that runs through Gilead.
She liked to do her wash. Sometimes fish rose for the bubbles. The smell of the soap was a little sharp, like the smell of the river. In that water you could rinse things clean. It might be a little brown after a good rain, soil from the fields, but the silt washed away or settled out. Her shirts and her dress looked to her like creatures that never wanted to be born, the way they wilted into themselves, sinking under the water as if they only wanted to be left there, maybe to find some deeper, darker pool. And when she lifted them out, held them up by their shoulders, they looked like pure weariness and regret. Like her own flayed skin. But when she hung them over a line and let the water run out, and the sun and the wind dry them, they began to seem like things that could live.
Lila is the third book, the continuation and perhaps culmination of the Gilead stories (though we can always hope for one more, say, written from the perspective of Lila and John Ames's son). But strikingly, images, themes, characters and circumstances also connect Lila to Robinson's first novel, Housekeeping, written thirty-two years earlier, long before the Gilead saga. Robinson may feel a sense of bereavement and miss her characters after finishing writing a novel; I miss her characters and her sensibility each time I finishing reading one of her works. So, upon completing Lila, I re-read Housekeeping (as I have before, once a decade or so since its publication in 1980). The narrative arc of this first novel and now her most recent novel reflect each other, like reversed, transposed mirror images.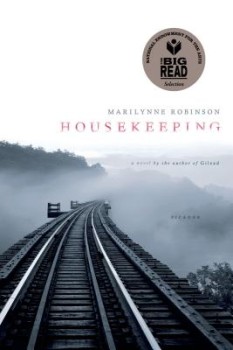 In Housekeeping, mysterious Sylvie drifts back into her lakeside hometown of Fingerbone, Minnesota. Her father drowned long ago in the bottomless lake where her sister has more recently committed suicide, and Sylvie is called back to care for her orphaned nieces. But feral Sylvie cannot be domesticated, cannot keep house. The lake floods the family home-place and she lets the house slowly deteriorate; revert to nature. Sylvie herself then drifts back outside, out of Fingerbone, accompanied by her niece Ruth.
By contrast, Lila drifts into Gilead, and over the course of the novel moves—albeit tentatively, ambivalently—deeper and deeper inside the community and into relationship with Ames. She sets up house in a deserted riverside shack; shelters in Ames's church during a downpour; tends his late wife's grave; steals his sweater to wrap herself in his scent; marries him and "creeps into his bed." Finally, anchored by her unborn child and love for Ames, she must stay in Gilead.
Despite this close, inverse relationship in narrative arc, and the similarities of imagery and theme, Housekeeping and Lila are stylistically distinct. The first novel approaches an incandescent blend of New England transcendentalism and Midwestern magical realism. Lila is instead closely observed realistic narrative. There is no magic in the poverty and deprivation Lila experiences; her pilgrimage is as brutal as Steinbeck's Okies' traverse of the dustbowl.
Finally, though, all four of Robinson's novels—Housekeeping as well as the Gilead trilogy—are united by her compassionate attention to the possibility for amazing, transcendent grace breaking through and illuminating flawed human existence and our daily experience. Reading Robinson is, as Lila says of walking beside Ames, "Good like rest and quiet, like something you could live without but you needed anyway. That you had to learn how to miss and then you'd never stop missing it."