Steven Moore loves his friends. Encountering them in abundance in My Back Pages (Zerogram Press), his weighty volume of collected reviews and essays from the last four decades, has laid me a little low with FOMO. This specific kind of anxiety, the "fear of missing out," comes from scrolling through someone else's pictures, usually on Facebook, observing them all living it up, rampant "likes" confirming that their life is far more exciting than your own humdrum existence. The parade of endless fun can tip anyone into a slough of despond. In my case, browsing through this collection, encountering so much enthusiasm for authors I hardly recognize, I am gripped with that fear of missing out.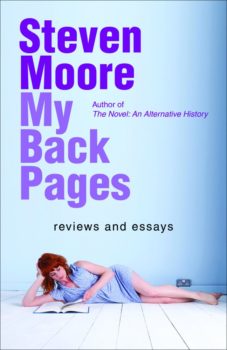 Steven Moore may be known not only as a prolific reviewer, primarily in the Washington Post, but also as the author of the very learned two volumes of The Novel: An Alternative History. He writes with an ease that is fed by a wellspring of reading and scholarly pursuit. He may be our country's best claim to that old-fashioned creature, "a man of letters," as it is hard to imagine anyone, certainly not in the academy, who has read more widely or who could speak, if modestly, about fiction with more easy confidence, precision, and wit. He is by his own admission not a balanced reviewer, but a critic with prejudices and strong personal tastes. He has mostly reviewed only books he has liked, and he is loyal to them still. This collection represents two forms of his output: almost everything he has published in journals and on line, and his essays. His work concerns primarily contemporary American writers, a few British, as well as some foreign writers—French, Spanish, Portuguese, German, whose translations he reviews (though their original languages are often frustratingly unrevealed).
But back to my FOMO. Maybe I expected to be unpacking a time capsule with this collection, enjoying a happy reunion with authors mostly familiar, in other words, pictures of people I recognized. Perhaps I anticipated an anthology of works I could place with game-show competence. But a glance at the alphabetically-arranged table of contents, and I cry, "Who is Héctor Abad?" and not in response to a Jeopardy prompt. I am flummoxed but read on. What is Avant-Pop fiction? Who is Félix de Azua? With Nicholson Baker I find a foothold, ignore Nicola Barker, but land safely on Djuna Barnes. John Barth makes me feel better, ditto Barthelme. Then come Jonathan Baumbach, Anne Beattie and the Beats. I'm breathing easier. Here's Saul Bellow. I almost relax but then I hit: Brooke Bergan, R.M. Berry, Franscesca Lia Block, Roberto Bolaño, Greg Boyd. Not even out of the B's, I must confront a terrible notion: maybe I have been reading the wrong books all these years.
Moore himself, gratefully, offers some consolation. In his level-headed and thoughtful introduction, he explains, "I want to preserve these writings not so much for my sake as for the authors': many of them aren't well known (italics mine), so this collection will give me a second chance to proselytize on their behalf." Somewhat mollified, I am struck by his project: to give largely (still) unfamiliar work a second chance at readership. There is something poignantly optimistic and generous in this; Moore is eager to show us, in effect, his posts of friends—not to demonstrate how many he has, but in the genuine hope of introducing us. He is trying to reassure me that in fact, I don't have to miss out.
This spirit prompted Moore's first reviews in the late 1970s. As he explains, he was running a bookstore in Denver when he noticed that a small local arts publication called Spree lacked reviews of fiction. Volunteering to fill the void, he became a regular columnist. Similarly, a decade later, he volunteered to guest-edit a special edition of the Review of Contemporary Fiction and found himself subsequently flooded with reviewing work, and working for the Review's affiliated press, Dalkey Archive, which enabled him to promote more authors through publication of their work. With forays at other publications, such as Rain Taxi, the Chicago Tribune and the Nation, Moore has been a regular reviewer at the Washington Post since the 1990s. Significantly, trained for an academic position, he did not set his sights on becoming a professional critic but rather found himself in that role by virtue of his own genuine wish to promote the fiction he liked.
His enthusiasm keeps me reading.
And Moore is nothing if not enthusiastic. As he explains, "I've always regarded book reviews as consumer advisory reports more than nuanced evaluations." He dispatches false expectations about a book right off the bat. After briefly describing Lee Siegel's Love in a Dead Language, he advises, "If this is your cup of tea, read on; if not, move on to the next column." He then settles into a cozy chat with his intended reader: "Now that we're alone, this is a fabulous novel, a postmodern, metafictional extravaganza…" Appreciation, not vivisection, is his goal. His assessments are overwhelmingly positive, even ecstatic. Hyperbole abounds. Ronald Firbank, he claims, "more or less invented Modernism." Elizabeth Smart's 1992 novel By Grand Central Station I Sat Down and Wept, he asserts, "is one of the most extraordinary novels ever written." Carole Maso he calls "one of the most important writers of our time." Of Alexander Theroux's Darconville's Cat, he says, "I want to be buried with this novel clasped to my heart." He is lavish with his predictions of greatness that, several decades later, have not always been realized. Nicholas Mosley has still not won the Nobel Prize in Literature (not yet! the optimistic Moore might add), nor has Lawrence Durrell's then-projected new series, the Avignon Quartet, become "another landmark in modern literature" (ditto). Such predictions, like old maps, remind us of how the landscape of literature has shifted over time, complicating and enriching our appreciation, one of the pleasures of this collection.
Far from the jaded reviewer of Tobias Wolff's "Bullet in the Brain," ready to shrivel his target, Moore is a self-effacing kingmaker. His enthusiasm is part of the charm, and I begin to notice, scrolling through these author-friends of his, that like boys in a particular college frat, they bear some resemblance to each other. They are writers of difficult, learned, experimental work. They are rarely from the South, with the exception of Guy Davenport, and they gravitate to big cities with Whitmanesque gusto. A few women may visit the frat house, such as Helen DeWitt and Rikki Ducornet, but "[t]he learned novel is mostly a guy thing," Moore explains. These men cast their nets wide to capture weighty themes with a kind of scholarly intellectualism. They are maximalists. Their vocabulary flashes as they take on history, sociology, politics. They revel in Big Subjects. Their fiction is intellectually challenging, or linguistically complex, or socially engaged, or ambitious in form and style, witty, or fantastical, or intellectual, or postmodern, or satirical, or political, or experimental. Or preferably all of the above. The works are dense, and usually long. Having cut his teeth on Joyce, Proust, and Musil, Moore's enthusiasm is unquenchable for Pynchon, Gaddis, Delany, Coover, Barthelme, Barth, Sorrentino, Georges Perec, David Foster Wallace, Mark Z. Danielewski, Denis Johnson, Alexander Theroux… Actually any work of spirit, ambition, and range sets Moore on fire. And even as I wonder with some consternation why he would pass over many brainy and ambitious women writers—Doris Lessing, Marisha Pessl, Zadie Smith to name a random few—still, his fervor keeps me reading. His enthusiasm keeps me reading.
Essays comprise the second section of the book, many concerning William Gaddis, who provided Moore with years of scholarly pursuit. While the reviews are brief and written with a hasty, charming intimacy, the essays have the formal tone of painstaking scholarship. His scramble down deep rabbit holes has prompted not only valuable essays on Gaddis, but also on peripheral figures: Sheri Martinelli, Chandler Brossard, Alan Ansen, David Markson, and Jack Green, among others, as well as a highly original analysis of the connections between Kurt Vonnegut and Proust.
While Moore is gratified by the continued scholarly interest in Gaddis, which his own work undoubtedly prompted, and David Foster Wallace, whose early promise he recognized and nurtured, his heart clearly goes out to writers he perceives as underdogs. He wants P. G. Wodehouse to be respected as more than a comic writer; "[a]s a bold saboteur of entrenched linguistic institutions, as a guerilla warrior against outmoded codes of language and behavior, Wodehouse someday may be taken seriously as the consummate artist he was." He might even resent the popular acclaim of writers whose work he does not himself esteem as highly, as it is only toward them that he allows himself the few harsh remarks in this volume of otherwise full-throated cheering. Of a collection of Richard Ford's stories, for instance, he says, "Ford will have to do better than A Multitude of Sins to keep up with the competition, even though this book will easily outsell theirs. That's the real sin." He calls Norman Mailer's A Gospel According to the Son "a poorly conceived disaster, easily the worst book the man's ever written." While he is susceptible to the pleasures of style, and might momentarily fall for John Updike's gloss and patina, he decides, of The Coup, "It is finally the language alone that holds the reader's interest to the end, like an indefinable something in a fine liqueur … which finally ends not with intoxication (as expected) but with an empty bottle, a pretty label, and lingering bouquet gone by morning." Though Moore prefers to shake pom-poms for his writers, he proves himself also a dab hand with a breathalyzer.
If a reader is willing to overlook some likely unintended sexism, My Back Pages makes for joyful reading, mostly because of its blatant prejudices. As Moore says of Peter Bailey writing about Stanley Elkin, "Elkin has been blessed with a critic who brings his own energy and vision to the task of explicating his fiction." The same certainly could be said of Moore himself. He makes his points with a wealth of knowledge, intelligence, energy, and a highly personal taste.
With its heft and encyclopedic range, the collection might be imagined on a scholar's shelf, and the essays will certainly be valuable to academics, but the reviews have the pleasure of love notes; they are steady reminders to us all of the necessary joy of good books. Moore has sold me on meeting his friends (while writing this, I have been sending surreptitious hold requests to my library account), and I am grateful for his ever-hopeful urge to get us acquainted.