Noonday, the culminating volume in Pat Barker's second wartime trilogy, continues to chronicle the effect of war on bodies, hearts, and minds: lives cut short, survivors' lives warped, twisted, changed. As before, she explores the universal dissonance between peacetime expectations of friendship, love, and work, and wartime experience. This time, it's through the intertwined stories of Elinor Brook, Paul Tarrant, and Kit Neville; a trio whose love triangle began upon meeting as young artists in 1914 (Life Class, 2007); continued into 1917 (Toby's Room, 2012); and concludes here, in 1940.
Twenty-three years have passed since the action in Toby's Room. Elinor, Paul, and Kit are now middle-aged, mid-career artists marked by physical and emotional wounds from WWI, and disillusioned by the failure of The War to End All Wars. WWII is now raging on the home front: their London homes and lives are under siege. Each has secured the coveted designation of commissioned War Artist, chosen for the honor by the War Artists' Advisory Committee's chair Sir Kenneth Clark. Elinor, Paul, and Kit respond differently to the Committee's mandates regarding appropriate wartime art. Elinor and Paul struggle with how to be honest and true to personal artistic vision—without losing the Committee's lucrative imprimatur. Even the more cynical and commercial Kit considers being designated war artists "a strange predicament, to be remembered for what everyone else was trying to forget," and suggests, "We should have got ourselves killed…They'd be all over us then."
Barker herself is a sort of war artist. She paints its physical and psychological carnage, as well as the occasional transcendent surprising victories of mercy and love. Her prose suits her subject and themes: blunt, plain, and unadorned, but rich with accurate sensory perception and intermittently illuminated by startling, unforgettable details—here, for example, just before bombs fall: "And then they heard it: that awful, desperate, edge-of-darkness buzzing, the sound a kettle makes when it's about to boil dry." Or here: "He looked down and saw a pigeon flapping about in the gutter with its wings on fire." The author is like a wartime correspondent with the keenest of sensibilities. Her work is accurate and un-sentimental—but enhanced by the novelist's powers of omniscience and omnipotence. Barker creates her story, her vision of world events with emotional as well as factual depth, filing her fictional dispatches from well-researched historical moments in time. And though she possesses the novelist's freedom in fiction, she never abuses poetic license. Rather, she uses it to permit the reader to enter her narrative world: to make us think, make us feel.
Barker's historical fiction has often comingled historical and created events and persons, but in Noonday she draws on  her personal life story, as the author shared in an interview with Alex Clark of The Guardian. Barker's mother, Moyra—young, single, working class—found her wartime service as a Wren [Women's Royal Naval Service] empowering: "She absolutely adored it from beginning to end—well, she adored it until I arrived." Barker "arrived" because her mother became pregnant, a consequence of a casual coupling one wartime night. The author has never known who her father was, and doesn't believe her late mother did, either. The secret's lost. What a significant bit of biography—especially for an author whose fictions are informed both by detailed research and imagination. And in Noonday, Barker seems to almost transport her mother to the page. For example, in one scene, Paul Tarrant, who is also a Fire Warden, flirts with a Wren. Both are tired and exhilarated after a night of bombing:
She was tracing a pattern in a puddle of spilled beer, the sunshine finding auburn glints in her brown hair…Right from the start the affair, if there was going to be an affair, would be limited; in time and in commitment. Well. He picked up the glasses. That was the one thing necessary to make her utterly irresistible.
With this scene, the author evokes the wartime's relaxed social rules, and describes the season of her own conception: if her mother is almost on the page, Barker herself hovers between the lines—a shadow baby who will be born to tell this story.
And tell the story she does, which brings me to the importance of voice in Barker's work. As she explained to Penguin's Richard E. Grant in a podcast for Acast in August of 2015, "Until you've heard the voice, you've got nothing." In this instance, perhaps hearing the voice, getting the voice, is in her DNA—the author's maternal grandfather, who died long before her birth, was a medium. He channeled spirit voices, and there is likewise a medium in Noonday, though a woman in this case. "There she was…you couldn't shut her up," Barker told Clark in her Guardian interview, noting that this character had showed up unexpectedly. "She thought it was her book."
Certainly it remains Barker's book; with her acute ear, she nails each character's individual voice, yet manages to also construct a narrative telling that seamlessly unifies the over-arching story. As she explained to Clark, the most important lesson she herself received as a writer was Angela Carter's instruction to have "faith in my own voice."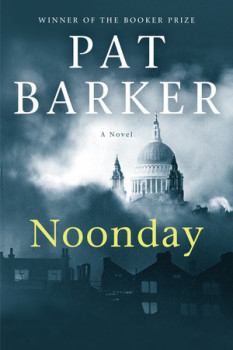 Barker's plainspoken, eloquent voice is so compelling that a warning is in order: you cannot read just one Barker novel. Although I had read her first WWI trilogy when it appeared more than two decades ago (Regeneration, 1991; The Eye in the Door, 1993; The Ghost Road, 1995), I had somehow missed her subsequent work. Picking up Noonday for this review, I worried about the handicap of being unfamiliar with the preceding two volumes of the trilogy. The concern immediately disappeared as I was captured by the story. The book stands alone, but once finished, I wasn't ready to leave Barker's characters and world. I still wanted to hear her voice, and I wanted Elinor, Paul, and Kit's back-story. So (despite items on my to-do list including writing this review, and a tower of other books I've promised to read), I read the rest of the trilogy—in reverse order. And it worked. Haven't we all had the experience of meeting someone as an adult, becoming curious, later learning about his youth? A story isn't necessarily spoiled by reading it "backwards." But writing a trilogy, and keeping spoilers out, is a remarkable feat. My reading experience worked, I later discovered, because Barker expects readers to be hooked, like me, and to read out of order. She calls us the "Awkward Squad," as she explained to Penguin's Grant and so crafts each succeeding volume of a trilogy so as not to give too many secrets away. But now at seventy-three, she's sworn off trilogies—novellas are next. I can't wait, but in the meantime, I'm reading my way through her backlist.