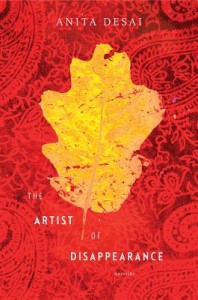 Until recently, we have lived in an age of exceptionalism. Idols and Stars and the Talented, voted into fame by a nation of cell-wielding aspirants. But the tide has shifted. Ninety-nine percent no longer indicates certainty, but the righteous anger of the unexceptional. Anita Desai's latest book, The Artist of Disappearance, a slender volume of three even slenderer novellas, makes a study of the nobody. With cool focus on the individual moment of crisis, Desai banishes the 1%, forcing us to consider all those unknown toilers. Life's castaways.
It feels like the prerogative of an author with a career as long as Desai's to take up the bureaucrat's lament or the translator's brief flowering. The novellas take place in the India of our time. The first story, "The Museum of Final Journeys," has a whiff of Lovecraft; one keeps waiting for eerie tone to resolve into fleshly monster as a lonely bureaucrat wanders the rooms of an abandoned private museum, led by a caretaker as cryptic as any Poe imagined.
All three novellas contain these spidery characters, spinning webs from the slender stuff of lonely lives. The middle story features a translator plucked from obscurity, only to overstep her lucky break. Desai feels keenly aware of the Millennial generation's yen for greatness, something to set the individual apart from the muddied masses. Of course, such longings are as common and ancient as the species.
In the title story, a hermit builds a secret bower, a beauty meant for himself alone. When strangers stumble upon it, he feels "Their gaze alone was a desecration." Herein lies the tension of The Artist of Disappearance: does something only exist with an audience? Or does a witness spoil something noble? Desai plays coy; her most powerful moments are the hidden, unseen graces of her misfits, but here we are–reading a book that lays them bare.
---
Extra:
Listen to Anita Desai discuss her Booker-shortlisted novel Fasting, Feasting on the BBC's World Book Club.