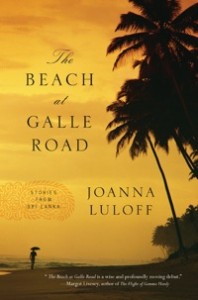 Joanna Luloff's debut collection, The Beach at Galle Road (Algonquin), meticulously avoids the fighting in its depiction of wartime Sri Lanka. Students, teachers, innkeepers, and a few foreign travelers do their best to keep up some semblance of hope against increasingly troubling news from the island's restive north.
Gradually, Luloff brings the war closer into focus. In the early stories, the conflict is an unspoken source of disquiet, a catalyst for confrontation between characters miles away from the fighting. But as the collection progresses, we see relief workers drawn to the front, families grieving lost sons, and—most tragically—Tamil girls attempting suicide for lack of a future.
Perhaps the collection's greatest success is the way it captures the slow, sad erosion of normalcy. Luloff's stories examine those oft-forgotten historical moments in which it still seems possible to dismiss bombings as anomalies, to maintain faith that cooler heads might prevail.
The author lived and worked in Sri Lanka as a Peace Corps volunteer in the late nineties. Her mastery of atmospheric effects is on full display here; the stories sear the nostrils with curry, incense, diesel fuel, and lye. But more importantly, they show a mastery of empathy. There are a few Americans abroad in these stories, but Luloff is less concerned with the trials of expats than with the Sri Lankans themselves, for whom the war represents a greater and more permanent loss. This perspective recalls Robert Olen Butler's depiction of Vietnamese families in his collection, Good Scent from a Strange Mountain. As in that work, The Beach at Galle Road uses the story collection form to its full potential, as a fractured lens that moves in and out of characters' lives, returning to reexamine those that most deserve attention.
You'll find no battle scenes and precious few explosions in these stories. Instead, Luloff chronicles the quieter but no less jarring ripple effects that the civil war sends across the disparate communities struggling to live together in Sri Lanka.
---
Links & Resources
Read Joanna Luloff's story "Counting Hours" – the opening story of the new collection – first published by Memorious.
Interested in the region? More fiction by writers from the area, or about South Asia.